Every Bollywood superstar deserves a worthy writer who can chronicle his journey, the crests, troughs and all, with elan and verve.
More so, Shah Rukh Khan, who emerged from outside the incestuous and insular Bollywood film industry to become its reigning superstar.
But Shah Rukh Khan, Bollywood – and ultimately readers – get short-changed by Anupama Chopra in her new book King of Bollywood: Shah Rukh Khan and the Seductive World of Indian Cinema.
Although four years in the making, King of Bollywood reads like one of those cheap quickies that mediocre hacks churn out on topical subjects in illusory hopes of a shot at quick fame and a fast buck.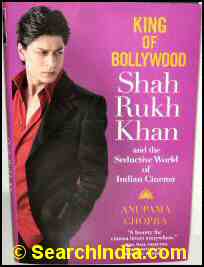 To millions in India and the diaspora outside, Bollywood and superstar Shah Rukh Khan are topical subjects at any time.
In thousands of cinema halls and millions of homes across India, people flock together daily to watch Bollywood movies, those lengthy and colorful riots of song, dance and drama.
In the U.S., Regal Cinemas in North Brunswick, South Plainfield and Burlington (all in New Jersey) and other theaters that screen Bollywood movies offer stiff competition to the ever-increasing numbers of Hindu temples in wooing Indian visitors.
Describing Bollywood as an element that unites a heterogeneous population, Anupama writes:
Hindi films function as a global glue, binding together Indians across gender, geography, religion, and age.
And to millions of Bollywood aficionados, lately there has been no bigger hero than Shah Rukh Khan.
As Anupama describes Shah Rukh Khan:
He is a modern-day God. On streets in India, his posters are sold alongside those of religious deities. Shrines have been erected in his name….Shah Rukh is bigger than Tom Cruise and Brad Pitt combined.
Shah Rukh Khan a.k.a. King Khan or SRK, has delighted Indians with blockbuster movies like Baazigar, Darr, Dilwale Dulhania Le Jayenge and Dil To Pagal Hai over the last 15 years or so.
Yes, King Khan's no great actor and the superstar's magic does seem to be fading a bit with his recent movies like Don (remake of the old Don) and Kabhi Alvida Naa Kehna lacking the sizzle of some of his past hits. And competitors are constantly nipping at his heels.
Still, the flops and competition notwithstanding, Shah Rukh Khan has lorded over Bollywood for more than a decade now and towers over peers like Abhishek Bachchan, Akshay Kumar, Aamir Khan, Hrithik Roshan and Salman Khan.
SRK's reign at the top has also largely coincided with the strides Bollywood has made over the last 15 to 20 years.
While most Bollywood movies are still hopelessly amateurish or outright lifts of Hollywood films, there's no denying that they are getting slicker, albeit at a slow pace.
Bollywood movies are also aggressively expanding beyond the confines of India to target the large diaspora in U.K., U.S.A, Canada, Australia, Africa and elsewhere with premieres and simultaneous releases. Hindi films are routinely filmed in New York, Switzerland, Egypt, Australia and other exotic locales.
The stupendous market opportunity and stiff competition from Indian movies has compelled Hollywood studios like Sony Pictures Entertainment to hop on the Bollywood bandwagon. Sony is making Saawariya, starring fresh faces Ranbir Kapoor and Sonam Kapoor.
A New York Times piece on Wednesday reports that Paramount is mulling making Bollywood movies. So is Warner Brothers.
But if you read Anupama's book, none of the excitement swirling around Bollywood or Shah Rukh Khan comes through. Reading King of Bollywood is like watching one of those dreary Indian newsreels from the 1970s.
Anupama fails to tell a gripping tale of Shah Rukh Khan's extraordinary rise from a middle-class Muslim family in Delhi to the giddy heights of Bollywood superstardom in Mumbai.
Of course, like all doting parents, Anupama has been prattling on about her book being the ne plus ultra on Bollywood and Shah Rukh Khan. In one recent interview, she touted her work as:
the definitive book on Bollywood and on Shah Rukh Khan.
That is utter balderdash because neither Bollywood nor Shah Rukh Khan come to life in this tedious book.
In interviews to promote the book, Anupama claims to have spent 35-40 hours interviewing Shah Rukh Khan alone. Then there are interviews galore with several other Bollywood notables like Yash Chopra and his son Aditya Chopra, Karan Johar, Juhi Chawla and Ram Gopal Varma.
Even Shah Rukh Khan's wife Gauri Khan and his old school teachers Savita Raisingh, Seetha Venkateshwaran and Eric D'Souza made time for the author. And we're not counting the secondary sources here.
But to what end?
A Superbore, the final product that is.
King of Bollywood is a painfully dull read and adds little that's new to the Shah Rukh Khan or Bollywood story.
Anupama's quickie reminds us of the English essayist T.B.Macaulay's review of Edward Nares' memoirs of Lord Burghley. In his trenchant style, Macaulay wrote:
It would be most unjust to deny that Doctor Nares is a man of great industry and research; but he is so utterly incompetent to arrange the materials which he has collected that he might as well have left them in their original repositories.
While Macaulay wrote the review 175 years back, he may as well have been writing about Anupama Chopra's book on Shah Rukh Khan.
What should have been a mesmerizing account of the superstar Shah Rukh Khan and Bollywood is instead turned into a tiresome plough-through.
Notwithstanding Anupama's pathetic efforts at self-promotion, King of Bollywood is not a definitive work like William Manchester's books on Churchill, Carl Sandburgh's volumes on Lincoln or David McCullough's biographies of John Adams and Harry Truman.
Anupama Chopra's faults are many with this book.
Besides failing to paint the milieu or the dramatis personae – Shah Rukh Khan, most of all here – in vivid hues, the author does not tell a compelling story of that most unique Indian phenomenon called Bollywood. Apart from the U.S., India is the only other country with such a vibrant film industry.
But you wouldn't know it if you read this book.
Like most Bollywood films that are quick rehashes of Hollywood entertainers, Anupama has chosen to take the easy way out – giving us a brief account of Shah Rukh Khan's life and the Indian movie industry (222 pages in all).
For Western audiences, that might be good enough. But for Indians more familiar with Shah Rukh Khan and Bollywood, the book falls way short.
Like the actor who fails to get into the skin of the character he plays, Anupama fails to get a grip on either Bollywood or Shah Rukh Khan.
Anupama's book is a greater disappointment because the book comes from a Bollywood insider (the author is married to Hindi film director and producer Vidhu Vinod Chopra). Proud of her Bollywood insider status, the author boasts on her web site:
Anupama has an insider's knowledge of Bollywood. Her husband Vidhu Vinod Chopra is a leading filmmaker. In 1979, he won an Oscar nomination for his documentary, An Encounter with Faces. Her sister Tanuja Chandra, is one of the few women directors in Bollywood. Her mother, Kamna Chandra, is a scriptwriter and her brother, Vikram Chandra, is an award-winning novelist who has also written Hindi film scripts.
Well, so much pedigree and so much access inevitably brings so much more expectation.
Alas, this insider does not bring us any great scoops in King of Bollywood.
Also, writing talent doesn't run uniformly through all members of Anupama's family. That's painfully obvious because the author lacks the storytelling skills of her brother Vikram Chandra, whose recent novel Sacred Games is an unputdownable tour de force.
In contrast rarely does Bollywood superstar Shah Rukh Khan, described in hyperbolic terms as the "face of a glittering India" and "a modern-day god" by the author, come alive in this book.
Apart from the lack of a filmography, there's also the issue of selection and weight.
In just a few sentences, Anupama glosses over the massive theft that Bollywood has been engaging in for decades. Bollywood directors routinely steal successful Hollywood plots and remake them without any compunctions.
Hitch, Collateral, A Kiss Before Dying, Disclosure, Derailed, What About Bob, Analyze This and Man on Fire are only a tiny fraction of Hollywood films that have been shamelessly plagiarized by unscrupulous and lazy Bollywood filmmakers.
Anupama never addresses adequately as to why Bollywood filmmakers have felt the necessity to steal so much for so long. As long as Bollywood remains largely unoriginal, its dreams of going global will remain just dreams.
What does Shah Rukh Khan think of such large-scale theft? Does King Khan have any views on why Bollywood films fail to win international awards like the Oscars? Who are the actors and storytellers that King Khan now admires the most and what has he learnt from them? Does SRK have Hollywood ambitions?
To find elaborate answers to these important questions and more, you'll have to wait for the real definitive book on SRK.
Then there are Anupama's flights of fantasy like when she describes Amitabh Bachchan as "a world-class actor" (P.49).
World-class in what sense?
Successful, yes. Amitabh Bachchan ruled Bollywood in the 1970s and 1980s and is still considered an icon.
But Amitabh Bachchan is by no stretch of imagination a world-class actor. Definitely not in the mould of Marlon Brando, Jack Nicholson, Al Pacino, Robert Redford or Dustin Hoffman.
Forget the great Hollywood actors. Amitabh is not even in the league of Indian actors like Naseeruddin Shah and Om Puri.
We also remain skeptical of a few other key points that Anupama makes. Writing about the Bombay underworld's threats to Shah Rukh Khan, she claims:
He [Shah Rukh Khan] bought his peace by having polite and innocuous conversations with killers. His aim was neither to offend them nor succumb to their demands to work in Mafia-funded films.
Then there's Anupama Chopra's intriguing silence.
In her chapter on Mobsters and Movies, there is no mention of the threatening phone calls Anupama's husband Vidhu Vinod Chopra received from the Mumbai underworld demanding money, a fact referred to by her brother Vikram Chandra in an interview with the Seattle Post.
How did Anupama's family – a leading Bollywood family – cope with the mobsters' demands? Who were these folks? Were the demands persistent? When did they stop? We've no clue because Anupama is strangely silent here although she is happy to talk about the "brutal murder" of the "Audio King of India" Gulshan Kumar in cliched terms:
The murder sent shock waves through Bollywood. A rich, well-connected businessman had been hunted down in a lane like a stray dog.
Makes you wonder what else Anupama Chopra left out in King of Bollywood.
Maybe being a Bollywood insider and having a front row view to all the action is a double-edged sword.