Some 31 odd years back, we watched Sholay for the first time in a small town in the hinterlands of south India.
Sholay was like nothing we'd ever seen before. It had a fearsome villain who quickly became a household name, fine music, moving romance and above all non-stop action that kept us glued to the screen.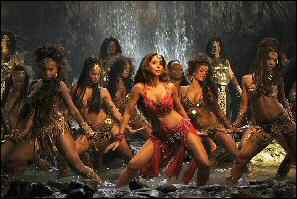 Ram Gopal Varma Ki Aag
We were spellbound by Sholay's villain Gabbar Singh (Amjad Khan), laughed at the antics of Veeru (Dharmendra) and Jai (Amitabh Bachchan), mesemerized by the beauty of Basanti (Hema Malini) and almost cried when Jai died in a hail of bullets at the end.
Though we were too young to realize it then, Sholay was a work of art.
When we heard that Sholay was being remade by Ram Gopal Varma, we were shocked at the sheer effrontery of the idea. Our first thought was that it'd be like remaking Casablanca without Humphrey Bogart and Ingrid Bergman. Can you imagine that?
So, how can you have Sholay without Amjad Khan or Sanjeev Kumar, both long dead now and Hema Malini, now too old.
Our initial unease was confirmed after watching Ram Gopal Varma Ki Aag this evening.
Ram Gopal Varma Ki Aag is a piece of trash combining all of the worst elements of Hindi cinema.
A pathetic screenplay, poor acting, miscasting, disgraceful music and above all incompetent direction come together in the dismal ensemble that's Ram Gopal Varma Ki Aag.
While Ram Gopal Varma Ki Aag has far too many flaws to enumerate here, its glaring shortcoming is the inept, amateurish screenplay.
Normally, Bollywood directors take a successful Hollywood movie like Hitch, Analyze This, Three Men and a Baby, Man on Fire etc and turn it into trash.
But veteran director Ram Gopal Varma has initiated a new trend. He has taken a first class Bollywood movie and turned it into a mind-numbing disaster.
Ram Gopal Varma Ki Aag hews to the story line of Sholay with an ex-police inspector seeking the help of two small-time criminals in capturing a notoriously bad guy with some romance thrown along the way.
Cast as the gangster Babban Singh, Amitabh Bachchan cannot hold a candle to Amjad Khan's performance as the infamous dacoit Gabbar Singh in Sholay.
A talented actor from the South Indian state of Kerala, Mohanlal is miscast as the Inspector Narsimha. Sanjeev Kumar played the role of the former inspector Thakur Baldev Singh with great elan.
And Nisha Kothari is a horror show on the screen. The girl is absolutely pitiful in every frame she appears in just as Hema Malini brightened up the screen everytime she appeared in Sholay. Who can forget Basanti dancing on broken glass to save her lover Veeru? Nisha Kothari is particularly terrible to watch after the blind man Naqvi's son Rehmad dies.
Ajay Devgan leaves no impression one way or the other except in the final scene after his buddy dies, when he suddenly seems to realize he's in front of a camera and displays some signs of his acting talent.
Sushmita Sen and newcomer Prashant Raj were the only two tolerable performers in Ram Gopal Varma Ki Aag.
Much of Sholay was filmed in daylight in the Ramanagar hills outside Bangalore while Ram Gopal Varma Ki Aag is mostly filmed against a dark background giving this bad film a gloomy look overall.
The comedy angle with Rajpal Yadav is just out of sync with the rest of the movie.
Sholay's music has stood the test of time. Believe us we're being charitable when we say that the music in Ram Gopal Varma Ki Aag is cacophony at its worst.
The much ballyhooed dance scene of Urmila Matondkar is nothing to write home about. Hopelessly crude, it was not even a third as captivating as Helen's sensuous dance to the Mehbooba, Mehbooba song in Sholay.
Ram Gopal Varma Ki Aag is awful to endure, rotten to contemplate and unpleasant to narrate.
It's a bizarrely awful movie that only a clumsily inept director like Ram Gopal Varma can unleash upon us.