Thiru Kumar of NY Dosas popularly known as the Dosa Man of New York City has won this year's prestigious Vendy Award edging out his competition in the form of Tacos, Falafel, Jerk Chicken etc on Saturday.
Vendy Awards are given out annually for the best food from a street cart vendor in New York.
When you consider that there are several thousand food cart vendors in New York City selling all kinds of food, you'll realize that the Vendy Award is really a big deal.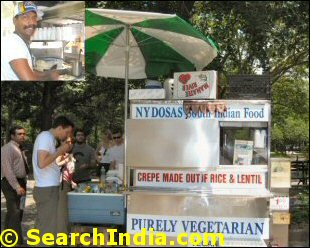 Thiru Kumar, Dosa Man of New York
From his humble Dosa cart at Washington Square Park South in downtown Manhattan, Thiru offers a variety of Dosas – Sadha Dosa, Rava Dosa, Masala Dosa, Uthappam and the hot favorite, Pondicherry Dosa.
For the Vendy Award competition this year, Thiru submitted his signature dish – Pondicherry Dosa.
Made of lentils and rice and filled with potatoes and fresh vegetables, Thiru's Pondicherry Dosa is worthy of your attention and highest respect. We can say that with authority because we've eaten the stuff. Believe us, it's just simply superb.
Not too greasy and not starved of oil/ghee, Thiru's Pondicherry Dosa is just right. Prepared fresh before your eyes, Thiru's delicious Dosas are offered in disposable containers with chutney and delicious sambar.
Thiru is a friendly soul with a ready smile unlike the waiters at most Indian restaurants in New York who habitually wear a mourning look.
We found Thiru's Dosas better than the Dosas we've had at Indian restaurants in Manhattan like Madras Mahal, Saravanaas, Chennai and Pongal.
The other finalists for the Vendy's Award this year were Veronica Julien from Veronica's Kitchen, Muhammed Rahman from Kwik Meal, Super Taco, aka "Sobre Ruedas" and Farez (Freddy) Zeideia, the King of Falafel and Shawarma.
But in the end, it was the Dosa Man who impressed the judges enough to win the Big prize.
Thiru hails from Sri Lanka and came to the U.S. a few years back after winning the Green Card lottery.
Last year, the Vendy Award was won by Samiul Haque Noor from "Sammy's Halal" whose cart can be found at 73rd Street and Broadway in Jackson Heights (Queens).