If you love movies as much as we do, you'll love the book Eyewitness Companions – Film.
For movie buffs, the 501-page book provides a nice introduction to the films business and whets the appetite for more indepth reading.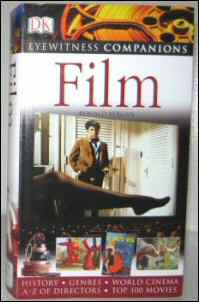 Besides giving us an overview of the Story of Cinema from 1895 to the present, this book also briefly touches upon the process of making a movie, describes the various movie genres, profiles the 200 top movie directors (dead and alive) from Hollywood to Bollywood, discusses cinema in various countries including India and ends with a guide to the Top 100 movies.
So, if you are too embarrassed to ask anyone about Avant-Garde movies or clueless about Film-Noir, pick up this book.
In the section on India, the author Ronald Bergan writes:
Indian films mean different things to different people. For the majority they mean Bollywood,  and for others they mean exquisite art movies as exemplified by the work of Satyajit Ray. The films of "Bollywood," a conflation of Bombay, the old name for Mumbai, and Hollywood, are generally rigidly formulaic Hindi-language musicals, comedies, or melodramas.
Besides Satyajit Ray, the section on Indian cinema also touches upon the movies of Mrinal Sen, Hrishikesh Mukerjee, Ramesh Sippy, Shekhar Kapur, Mira Nair and Deepa Mehta.
Several of our favorite directors like Billy Wilder (Sunset Boulevard), Michael Curtis (Casablanca), Martin Scorsese (Gangs of New York, Departed), Orson Welles (Citizen Kane), Ang Lee (Crouching Tiger, Hidden Dragon & Brokeback Mountain), Francis Ford Coppola (Godfather), Brian De Palma (Scarface), Elia Kazan (On the Waterfront), Steven Spielberg (ET, Munich), Michael Moore (Fahrenheit 9/11, Sicko) figure in the section on directors.
Satyajit Ray is the only Indian director to find a mention in the category on Directors:
The films of Satyajit Ray, which mainly deal with the collission between traditional and modern beliefs, offer no easy answers, but reveal the human face of his vast country.
Yes, Amitabh Bachchan finds a place here and described as "India's greatest superstar."
There is no mention of that loudmouth Shahrukh Khan.
Satyajit Ray's 1955 film Pather Panchali is the only Indian movie to find a place in the admittedly subjective Top 100 movies. Still a disgrace for a country that is supposedly the largest producer of movies, right?