Come on, if you really can't answer the above question about our hot Bollywood and Kollywood babes, you are just not looking in the right place.
Well, if you are too shortsighted to notice, the short answer is: Namitha, Mallika and Urmila are all booby-traps.
Now, don't ask us what a booby-trap is.
Ignore the dictionary meaning.
Instead, look at the pictures of these girls. This time, pay attention. Soon, you'll have your eureka moment.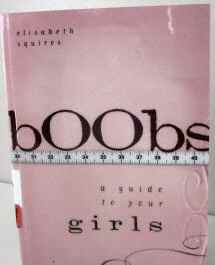 Having lived long years in both India and the West, we think Indians have a bigger obsession and fascination with breasts as symbols of sexuality than Americans. And bigger the better.
Not surprisingly many of our well known Indian film actresses – yesterday, today and surely tomorrow too – may not act well but they are well endowed.
Kollywood bombshell Namitha, Rangeela girl Urmila, beauty queen Sushmitha and Bollywood sex siren Mallika all owe a fair bit of their immense popularity to their choli ke peeche mangoes. Whether their gravity-defying Alphonsos are god-given or man-made we have no way of knowing since we have never encountered 'em  doodhwallis at close quarters.
Unlike the more subtle Americans, Indians are transfixed by boobs and just can't help staring at these seductive masses of fat and tissue.
No surprise then that the other day our eyes were quickly drawn to a new book at our local library with the provocative title Boobs by Elisabeth Squires.
Before you could say Mallika Sherawat, we marched off to the checkout counter with the boobs-book firmly clasped to our bosom.
Elisabeth Squires describes her new book Boobs as;
an owners guide to very breast friends.
The book is touted as the one place to go to for all kinds of information on breasts from augmentation to breast uplifts to breast cancer to bra sizes to breast care and more.
Indeed, this book does contain a fair bit of information. Think of this book as a kind of breastopedia.
Squires writes in a lively and humorous tone.
Early in the book, she quotes an unnamed 44-year woman with 36B globes:
Breasts are like avocados: at twenty they aren't quite ripe, at thirty they're perfect, and at forty they are overly ripe.
The author cites etymologists that the word boob originated as a synonym for breasts in 1929.
Boob, as many of us know, also refers to a foolish or silly person. Squires hypothesises that the etymology of boob for breast may lie in the reaction (silly) of some men to breasts.
Perhaps no other part of the human anatomy has so many monikers. Peaches, mangos, tits, melons, apples, headlights, bazookas, twins, knockers, girls, orbs, hooters, globes, highbeams, cantaloupes, ta-tas, tankers and ya-yas are just some of them.
One chapter of the book is devoted to bras, getting the right size for your girls and the dos and don'ts of bra buying. Even in this chapter, Squires' humor comes through as when she quotes a 56-year-old woman:
I think the whole science of bra engineering is like so many things. If men had to wear 'em, these problems would have received more attention long ago.
As expected, one chapter focuses on the various breast diseases and illnesses. These range from the simple breast pain (mastalgia) to the serious breast cancer.
Squires discusses various options for breast cancer that range from mastectomy (removal of all breast tissue), lumpectomy (removal of specific tissue and skin around the tumor), chemotherapy, hormone therapy and radiation.
Given the obsession on breast size, there is a full chapter on cosmetic surgery.
Some of the common cosmetic surgery procedures discussed include breast augmentation, breast lift, breast reduction and breast reconstruction.
Squires writes that despite all the controversy surrounding it,
in general, cosmetic breast surgery seems to improve a woman's self-esteem and outlook on life.
She also cites a 2007 study that breast augmentation significantly enhanced a woman's self-esteem.
For the boobsessed wishing to go beyond this book, there is a comprehensive boobliography at the end.