Just when we thought our Bollywood purveyors of misery couldn't sink any lower, comes along a lousy movie like Welcome. 
We so enjoyed Anees Bazmee's 2005 comedy No Entry that it was with much anticipation we headed for his new movie Welcome.
Alas, all our hopes were belied.
It would be an insult to the entire genre of comic films to call Welcome a comedy.
To use an analogy, Welcome is like an old man who suddenly finds himself in bed with the sensuous babe Mallika Sherawat. Yes, the old man is tremendously sexcited with Mallika but the infirm, decrepit body just won't cooperate.
Likewise, Welcome starts well, has Aneez Bazmee as the director and big name stars like Akshay Kumar, Anil Kapoor, Katrina Kaif, Nana Patekar and even Mallika Sherawat. So, your expectations are high but then the fizz goes off quickly and the movie just falls apart because the flaccid story just doesn't cooperate with the other elements.
Except for the first 30 minutes or so, Welcome is plain rubbish. You know, it's the kind of trashy movie that Bollywood so excels in churning out.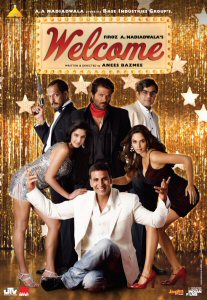 The story, if you can call it that, centers around the efforts of a big gangster Uday Shetty (Nana Patekar) to find a decent groom for his sister Sanjana (Katrina Kaif). And Rajiv (Akshay Kumar) happens to be the decent guy caught in the middle between his uncle Dr.Ghungroo (Paresh Rawal) and the bad guys.
Unfortunately, even this mockery of a story collapses quickly. In our view, the key problem with Welcome is that the folks responsible for the story developed accelerated Alzheimers halfway through their work.
Feroz Khan of Qurbani fame looks and acts like he just woke up from the dead. Maybe, Anees Bazmee and Welcome's producers should have just let Feroz Khan Rest in Peace. Resurrecting Feroze Khan was just not worth the effort.
The silver lining is that Katrina Kaif seems to be finally showing some signs of acting capabilities these days.
Nana Patekar and Paresh Rawal were good in Welcome as expected. But then these two actors stand apart in even horrid movies by virtue of their extraordinary acting talent.
Akshay Kumar was so-so as was Anil Kapoor, who plays a lesser don Majnu Bhai. 
Music in Welcome was nothing to write home about. And the dance sequences were definitely choreographed by chimps from the Mumbai Zoo. They were that bad.
Even for weary veterans of bad Bollywood movies, the last 30 minutes of Welcome featuring the funeral ground scene and the collapse of the house on the cliff were insufferable.
Welcome is a mindnumbing assault on all the senses.
Watch this horror show at the peril of losing your sanity.