Now that Ratan Tata has unveiled the much anticipated $2,500 Tata Nano at the Delhi Auto Expo, the two big questions are what does the People's Car mean for existing foreign players like Ford, GM and Suzuki who have set up operations in India and what impact will it have on Tata's aspirations for the high-end Jaguar and Land Rover brands it's trying to acquire from Ford.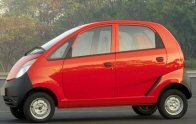 Tata Nano – People's Car?
Ford and GM are in pretty bad shape here in the U.S., mere caricatures of their once glorious selves.
With the Chinese Chery expected to enter the American market in the not too distant future (and further decimate what's left of the U.S. auto makers), Ford and GM were betting big on sizable markets in developing nations like India.
And why not? After all, as the New York Times reported yesterday, car sales in India are growing at over 20% annually compared with 3% globally.
But Tata Motors has thrown a spanner in the works of Ford, GM and Suzuki in the form of the People's Car now christened Tata Nano.
American auto companies with their fat pay structure for senior executives and crumbs for the rest have little to show in their cars by way of innovation. The only way Ford, GM and Chrysler can sell their ugly boxes in the U.S. is through massive discounts, no-interest loans or by dumping them on the rental car chains.
The only mantras U.S. car makers know are layoffs and outsourcing. And both those shibboleths are not going to help them in India when they compete against the Tata Nano.
It's hard to see how Ford or GM can effectively compete against a $2,500 car assuming the Tata Nano is a decent effort.
Ford sales are already slipping in India and the company is making some noise about a small car. Seems like an effort to create FUD (Fear, Uncertainty and Doubt) in the market.
GM seems to have done well in India in the first half of 2007 but we remain skeptical that they can maintain the momentum.
Most likely, Ford and GM will have to curb their enthusiasm and kiss their mega hopes in India goodbye.
Of course, there will be a market in India for higher-priced cars too but then that will not be a mass market on the same scale as for a $2,500 car. In India, those who today ride motorbikes and, maybe even bicycles, can hope to buy a $2,500 (Rs 100,000) car but they can't dream of buying a car costing over $7,000.
Suzuki, which has had a longer presence in India through its Maruti Suzuki venture, will also surely feel 'some impact', as its Managing Director Shinzo Nakanishi put it rather delicately on Wednesday.
Given its established presence and a significant market share of 50% of the Indian car market, Suzuki is in a better position to withstand a potential hurricane like Tata Nano than either Ford or GM.
Meanwhile speaking at the unveiling function at the 9th Auto Expo in New Delhi, Tata group Chairman Ratan Tata explained the rationale behind the Tata Nano:
I observed families riding on two-wheelers – the father driving the scooter, his young kid standing in front of him, his wife seated behind him holding a little baby. It led me to wonder whether one could conceive of a safe, affordable, all-weather form of transport for such a family. Tata Motors' engineers and designers gave their all for about four years to realise this goal. Today, we indeed have a People's Car, which is affordable and yet built to meet safety requirements and emission norms, to be fuel efficient and low on emissions. We are happy to present the People's Car to India and we hope it brings the joy, pride and utility of owning a car to many families who need personal mobility.
Tata Nano Basic Specs:
* Can seat four persons
* Length of 3.1 metres, width of 1.5 metres and height of 1.6 metres
* Mono-volume design, with wheels at the corners and the powertrain at the rear
* Rear-wheel drive, all-aluminium, two-cylinder, 623 cc, 33 PS, multi point fuel injection petrol engine
* Maximum speed of 60 miles per hour
* Mileage of 50 miles per gallon
* Sheet-metal body
The folks at Tata Motor say that the lean design strategy has helped minimise weight, which helps maximise performance per unit of energy consumed and delivers high fuel efficiency. Performance is controlled by a specially designed electronic engine management system.
Tata Motors executives say that safety performance of the Tata Nano exceeds current regulatory requirements.
With an all sheet-metal body, it's supposed to come with a strong passenger compartment and safety features like crumple zones, intrusion-resistant doors, seat belts, strong seats and anchorages and rear tailgate glass bonded to the body.
Will the Tata Nano catch on with the rabble?
We'll have to wait and see. As the old proverb has it, there is many a slip betwixt cup and lip.
The People's Car is supposedly less polluting than two-wheelers being manufactured in India today.
By the way, Tata Nano's tailpipe emission performance is said to exceed regulatory requirements.
When the Tata Nano formally rolls off the assembly lines later this year, it will come in three models – Standard, Deluxe and Luxury.
On the second question of the impact of Tata Nano on Tata's aspirations for luxury brands Jaguar and Land Rover (which it is trying to acquire from Ford), we think it's a negative.
It's hard to visualize a low-end, cheap brand like the Tata Nano and a high-end, premium car brand like the Jaguar co-existing in harmony and profitably. Consider us among the doubting Thomases here.
Tata Motors is India's largest automobile company with revenues of $ 7.2 billion. The company is the second largest manufacturer of passenger vehicles and the leader in commercial vehicles.
Tata Motors also distributes Fiat branded cars in India and has a joint venture with Fiat Auto to manufacture passenger cars, engines and transmissions for the Indian and overseas markets.