Jodhaa Akbar is an epic bore athough it's touted as an epic love story of Mughal Emperor Akbar and Rajput princess Jodhaa, daughter of Raja Barmal, a minor king from a small state called Amer.
Directed by Ashutosh Gowariker (of Lagaan fame), Jodhaa Akbar never once scales lofty heights but struggles in the quicksand of its mediocre story, pedestrian acting, insipid action scenes and awful music.
Simply put, Jodhaa Akbar is not a work of a powerful imagination.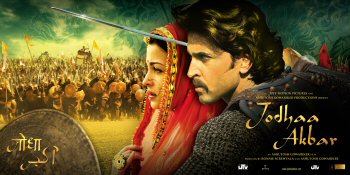 Jodhaa Akbar is also unnecessarily long, so long that Regal Cinemas in Burlington, New Jersey provided an interval (a rarity in the U.S.). The movie is three hours and 24-minutes long!
The movie is like one of those trashy Mills & Boon novels – Boy meets girl. Sparks fly. Boy and girl have disagreement and part. Boy and girl pine for each other. Boy and girl unite.
Add some amateurish war scenes with some elephants, camels and horses to this Mills & Boon kichdi and you have the essence of Jodhaa Akbar.
Neither Hrithik Roshan nor Aishwarya Rai -who play Mughal Emperor Akbar and Jodhaa respectively – distinguish themselves by their acting in Jodhaa Akbar.
In Jodhaa Akbar, Hrithik Roshan displays none of those magisterial traits one would associate with the Great Mughal Emperor Akbar.
Most of the time Hrithik Roshan seemed like he was performing the role of Birbal (Akbar's court jester).
In several crucial scenes, Hrithik Roshan lets the audience down with a wooden performance. When Jodhaa imposes two conditions for the marriage, Hrithik Roshan disappoints and when he learns of his old Badi Ammi Maham Anga's perfidious action, he disappoints again.
What a pity that the passion Hrithik Roshan brought to some of his earlier movies like Koi Mil Gaya or Kaho Naa Pyaar Hai is completely missing in Jodhaa Akbar.
As for Aishwarya Rai, the less said of this ethereal beauty's non-acting, whether in Jodaa Akbar or any other movie, the better.
In great love stories on the screen like Casablanca, the love of the principal characters for each other hits you with a gale-force that leaves an indelible impression on the mind.
But that never happens in Jodhaa Akbar. It's a love story alright. But not an epic love story.
The action scenes in Jodhaa Akbar also left us disappointed.
We found Hrithik's fight scene with the elephant less-than-terrifying and less-than-spectacular.
And as for the war scenes in Jodhaa Akbar, they are hopelessly amateurish by Hollywood standards. (even amidst all this outsourcing mania in the U.S., it's safe to say Steven Spielberg or George Lucas won't be outsourcing special effects to India any time soon).
Comedy comes in the form of Aishwarya Rai's sword fights. Come on, this gal can't even act. Where is the question of her performing sword fights with elan?
If you don't think Aishwarya Rai's sword fighting is funny, there is her ludicrous presence on the battle field as Akbar prepares to fight his scheming brother-in-law.
Looking for nice music in Jodhaa Akbar? Forget it. Music director A.R.Rahman must have dozed through the whole exercise.
By the way, the picturization for the Azeem O Shaan Shahenshah song was an elaborate affair and quite nice too.
The only other silver lining in Jodhaa Akbar was in the fine costume design by Neeta Lulla.
Jodhaa Akbar is just not the kind of Bollywood movie you would want to waste money or time on this long President's Day weekend in the U.S.