(Tashan Fares Miserably at U.S. Box Office)
Even the inmates in the asylum or a tramp on the Mumbai streets would have made a better movie than this Friday's Bollywood release Tashan.
What in the heck were the bozos at Yash Raj thinking when they unleashed a trashy movie like Tashan!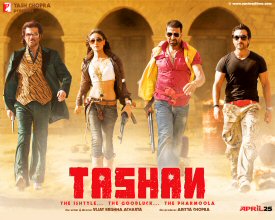 Utterly bereft of anything worthwhile and an ugly amalgam of bad logic, rotten story, pitiful acting, ordinary photography and ear-damaging music, Tashan is a complete horror show, the likes of which have not been seen in Bollywood in a long, long time.
And the architect of this monumental disaster is Vijay Krishna Acharya, who takes credit (it should really be discredit) for Tashan's story, screenplay, dialogs and direction.
Even after making movies for over eight decades, the cavalcade of Bollywood idiots has yet to realize that story, screenplay, dialogs and direction are separate departments requiring the full-time attention of separate people.
This clown Vijay Krishna Acharya has penned a story so bizarrely bad that it'll surely be showcased in film schools as a lesson in how not to make a movie.
The dramatis personae are the ridiculously dressed baddie Bhayyaji (Anil Kapoor), his assistant Pooja Singh (Kareena Kapoor), a call center employee Jimmy Clifff (Saif Ali Khan) and Bhayyaji's henchman Bachchan Pande (Akshay Kumar).
While none of the four cover themselves with any glory for their performance, Anil Kapoor and Kareena Kapoor are egregiously bad.
With her skimpy attire and scanty acting skills, the tiny-titted Kareena Kapoor, granddaughter of the late Bollywood director Raj Kapoor, is sheer agony to behold.
One interesting trend in Bollywood movies is that the role of the ubiquitous vamp of yesteryear films has now been taken over by the heroine.
Following close behind in tormenting the audience in Tashan is that overacting buffoon Anil Kapoor, a veteran of a gazillion Bollywood movies. Just goes to prove that wisdom or talent does not always improve with age.
No, Akshay Kumar and Saif Ali Khan are not palliatives either. Hey, there are just no palliatives or redeeming elements in this piece of trash.
The story, if you can call it that, is laughably bad. A murderous thug Bhayyaji (Anil Kapoor) wants to learn English quickly so that he can impress a visiting foreign delegation. His assistant Pooja (Kareena Kapoor) hires a call center employee and part-time English teacher Jeetender Kumar Makhwana a.k.a. Jimmy Cliff to teach her evil boss English.
Soon, Jimmy is head over heels in love with Pooja, who seems to reciprocate but actually has other plans up her sleeve. Pooja and Rs 25 crore belonging to Bhayyaji vanish one day. After giving Jimmy a few whacks, he sends a small-town thug called Bachchan Pande and Jimmy to locate the girl and the money.
The main culprit with Tashan is with its asinine script and hackneyed story that crumbles into dust just minutes after the start. Add bad music and mediocre acting to this stinking concoction and you have the recipe for a stinging migraine at the end.
Although the movie was filmed in "God's Own Country" Kerala, Hardwar, Ladakh, Rajasthan and Greece(?), the photography in Tashan is worse than banal. Talk of throwing pearls before a swine.
The fight scene where a big team of heavily armed commandos attack the ill-equipped group of Bhayyaji, Bachchan Pande, Jimmy and Pooja but yet suffer a crushing defeat sets a new low mark in the annals of crude Bollywood fights. It seems Peter Hein bears responsibility for this most crudely executed action scene.
Tiresome dances involving foreign women (mostly White but occasionally Black as well) in skimpy attire is becoming de rigeur – and most irritating – in Hindi movies.
Once a powerful force in Bollywood, Yash Raj Films is now a spent force, lurching from one disaster to another. Take a deko at at some of the miserable offerings they've churned out lately – Aaja Nachle, Laaga Chunari Mein Daag, Jhoom Barabar Jhoom and Ta Ra Rum Pum. Makes you want to puke.
Perhaps, it's time for the grand old man of Indian cinema Yash Chopra (the force behind Yash Raj Films) to quit Bollywood and settle into a profession where he can inflict his misery on a retail level rather than on a wholesale scale – say as a roadside Jalebi seller or village Barber. After all, Saif Ali Khan is served Jalebis in Bhayyaji's lair early in this movie.
Watch this garbage of a movie called Tashan at the peril of losing your sanity.
P.S: If you are looking for relief from the never-ending run of trashy Bollywood movies, watch the lovely new Hollywood film Smart People.