Click here for Sarkar Raj U.S. Box Office Report
You have to give veteran Bollywood director Ram Gopal Varma credit for consistency.
After all, how many other Bollywood directors can you count on to unfailingly deliver one mediocre movie after another.
In his latest work Sarkar Raj, the dependably stupid Ram Gopal Varma once again delivers the goods – yet another boring dud.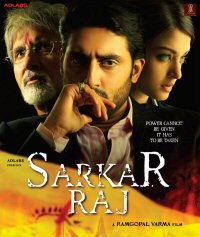 Sarkar Raj featuring Bollywood's first family (Amitabh Bachchan, Aishwarya Rai and Abhishek Bachchan) is a mediocre sequel to Ram Gopal Varma's unimpressive Godfather-inspired 2005 gangster flick Sarkar.
Even after two decades in the film industry and 20 films under his belt, Sarkar Raj director Ram Gopal Varma is all at sea in the Bollywood ocean, rowing his way without the tiniest paddle of talent.
For a movie featuring a gangster theme and its inherent violence, Sarkar Raj is not a chilling movie but a boring movie.
A good gangster movie needs plenty of blood and gore, a strong, gripping story and intense performances by the dramatis personae (Think Marlon Brando, Al Pacino, Viggo Mortensen or Denzel Washington).
Written by some deservedly-unknown fella called Prashant Pandey, Sarkar Raj completely fails in the story department.
Made worse by cliched dialogs (e.g. All My Life, I did what I thought was right; I lived life on my terms; I was never afraid of anyone), the effete story just does not – and cannot – hold our interest.
Powerful Hollywood gangster movies like Godfather, Scarface or the more recent Eastern Promises (featuring Viggo Mortensen in an intense performance) and American Gangster terrify us, shock us and ultimately thrill us by their raw, savage violence woven into beautiful, captivating tales and performed by talented artistes under the aegis of master directors.
True gangster movies have a velocity that your love stories or comedies will never have. There's just no velocity in Sarkar Raj, the movie is all flat. Yes, that includes a flat performance by the flat-chested Aishwarya Rai.
Neither fish nor fowl, Sarkar Raj is an equilateral triangle with gangster violence, politics and corporate greed representing the three sides.
In Sarkar Raj, Amitabh Bachchan returns as Subhash Nagre, the aging Sarkar, a parallel seat of authority and violent gangster. How you view Subhash Nagre depends upon your perspective.
In the eponymous prequel, Sarkar had to bear the agony of losing one of his sons but had the joy of seeing another son Shankar Nagre (Abhishek Bachchan)Â evolve into a junior Sarkar.
Sarkar Raj, the sequel movie has a loose core around the efforts by a foreign company Sheppard Corporation to set up a power plant in a rural area of Maharashtra called Thakkarwadi.
Shepherding the power plant through the byzantine corridors of Maharashtra politics is its young Indian chief Anita Rajan (Aishwarya Rai). See shades of Enron's ill-fated Dabhol power plant in Maharashtra and its hard-charging Indian chief Rebecca Mark? So did we.
All events in Sarkar Raj seem to flow from the power plant until the director blandly reveals in the end that all is not what it seems. Voila, for a flat surprise!
Hailed as one of India's finest actors (but just average, truth be said), the 65-year-old Amitabh Bachchan represents a generation that came of age in the 1970s but is now clinging to a thin vine by their fingernails in the face of the arrival of a large crop of younger actors like Shahrukh Khan, Aamir Khan, Hrithik Roshan et al.
If Amitabh Bachchan is just so-so in Sarkar Raj, his younger co-stars Abhishek Bachchan and Aishwarya Rai (husband and wife in real life) are pathetically unequal to the task of acting.
Watching Abhishek Bachchan or Aishwarya Rai on the big screen is a depressing spectacle, a Karmic punishment for movie lovers.
Hopelessly incompetent as actors, these two lazy slobs don't seem to make the slightest effort in learning the art, craft and nuances of acting. Aishwarya Rai hopes to bamboozle viewers with her luminous beauty and Abhishek Bachchan with his last name (he is Amitabh Bachchan's son in real life).
In a pivotal scene in Sarkar Raj, when Shankar (Abhishek Bachchan) is shot by a hitman, the duo Abhishek-Aishwarya deliver a shoddy performance that should make them the laughing stock of movie goers for eternity. In fact, some members of the audience were openly laughing at Aishwarya's substitution of contortion for acting.
In a career marked by mostly bad performances from Abhishek Bachchan and Aishwarya Rai, this was just a new nadir.
Photography and music (thankfully, there's not much in Sarkar Raj) are pedestrian.
Much of the film is shot in soft lighting, a lot in shadows, with chants of Govinda, Govinda echoing in the background. Bizarre.
Mercifully in Sarkar Raj there are no comedy sideshows (a staple of Indian movies) involving Rajpal Yadav or Johnny Lever. True, these are small mercies in Sarkar Raj but hey, we'll take any.
One big gripe: Sarkar and Anita should have also been knocked off in Sarkar Raj to spare us the worry about Ram Gopal Varma unleashing another ugly sequel. But the cruel sadist does not oblige and so we live in dread at the thought of seeing Sarkar III in 2011 or 2012.
Sarkar Raj is not the stinking rubbish that Ram Gopal Varma Ki Aag was but just a shade better.