There should be a law to prevent the lobotomized idiots at Yash Raj Films from ever producing movies.
From the nincompoops who brought us trash like Tashan,  Aaja Nachle, Laaga Chunari Mein Daag, Jhoom Barabar Jhoom and Ta Ra Rum Pum, comes a new horror show – Zyada Garbage, Zero Magic oops Thoda Pyaar Thoda Magic (the correct but inapt name of this piece of trash).
A depressingly bad movie, Thoda Pyaar Thoda Magic has no raison d'etre except some dodos in Mumbai fancy that if the likes of Ram Gopal Varma can make bad movies, hey, they can make worse movies.
This movie falls way, way short of delivering on its cute title that we feel compelled to describe it in the rest of this review by the more apposite Zyada Garbage, Zero Magic.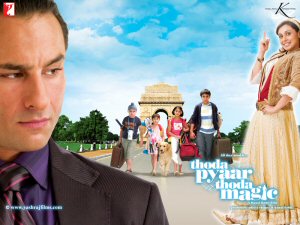 Zyada Garbage, Zero Magic has little going for it.
It lacks a decent story.
It lacks decent acting.
It lacks decent music.
In short, Zyada Garbage, Zero Magic lacks all the essential ingredients of a nice Bollywood movie.
Zyada Garbage, Zero Magic is (mis)directed by Kunal Kohli, the same fella who brought us that fine entertainer Fanaa (Aamir Khan, Kajol) a few years back. But much can happen to the human brain in two years and Zyada Garbage, Zero Magic is ample evidence of the degradation of any and all artistic sensibilities in Kunal Kohli.
There has been some chatter on the web that Zyada Garbage, Zero Magic's story is inspired from that old Disney classic Mary Poppins. Are you surprised?
Zyada Garbage, Zero Magic is the story of a cold businessman Ranbir Talwar (Saif Ali Khan), who lands in hot water when he crashes his BMW into Mrs and Mr.Wallia's car, sending them off to their maker and orphaning their four young children.
And what do you think the judge trying the car accident case in the movie does? Our learned judge makes Ranbir Talwar the guardian of these four children. Be warned that such is the baloney you'll have to endure should you make the mistake of watching this piece of trash.
Hey, if we were the Indian judiciary, we'd haul this crappy movie's producer, director and actors into court for portraying the judiciary in such poor light.
If you think the sophomoric story is the only shortcoming in Zyada Garbage, Zero Magic, boy, oh boy, you are one big optimist.
The acting department is another arena where Zyada Garbage, Zero Magic falls flat on its face.
The movie's dramatis personae Saif Ali Khan and Rani Mukerji are often touted as Bollywood actors par excellence (well, in the country of the blind the one-eyed man is …).
But in Zyada Garbage, Zero Magic neither Saif Ali Khan nor Rani Mukerji distinguish themselves in any way. Ditto for Rishi Kapoor in his brief role as God.
With top Hollywood stars like Will Smith, Russell Crowe, Nicolas Cage, Tom Hanks, Denzel Washington, Angelina Jollie et al, decent acting is taken for granted. Au contraire, with Bollywood top stars most of the time you'd be lucky to get even passable performances.
If a passionless, less-than-mediocre performance is what we got from our Bollywood stars like Saif Ali Khan or Rani Mukerji for the $7.50 we fork out for our movie tickets, we'd strongly recommend that fans give them the cold shoulder and stay away from such tripe until these actors learn to respect fans by delivering decent performances.
As for Saif Ali Khan's clumsy attempts at dancing, it's safe to say that chimps would do a more graceful job.
If you are looking for the chemistry that Saif Ali Khan and Rani Mukerji brought to Hum Tum (directed by Kunal Kohli, again), just fuhgeddaboutit. It just ain't there in this movie.
The four kids in Zyada Garbage, Zero Magic are alright but do nothing extraordinary.
If you want to see fine performances by kids, you've got to watch foreign movies like Pan's Labyrinth (Spanish), Blame it on Fidel (French), The Italian (Russian) and El Bola (Spanish).
For the most part, Indian kids in movies are a bunch of piglets with rare exceptions like Darsheel Safary (Taare Zameen Par) and Ayesha Kapoor (Black).
As for Ameesha Patel, her skimpy attire and all, would any sane person expect anything but a crappy performance from this nightmare?
Yikes, who in their right minds would ever cast a complete non-actress like Ameesha Patel. The lady is so hopelessly bad that she should not be allowed anywhere near the movie sets lest her incompetence rub off on her co-stars.
Ameesha can't emote on screen. Period. And like Abhishek Bachchan, she shows no signs of improvement despite stalking the aisles and corridors of Bollywood for over eight years.
And pray what was the rationale for Ameesha's poorly fleshed out role here? In any case, for much of the movie she looked as if she'd wandered off the animal park into the Yash Raj film sets.
Looking for decent music in Zyada Garbage, Zero Magic – you'd have better luck finding water in the cruel sands of the Sahara. None of the songs did anything for us.
For some time now, we've believed that the wannabe moviemakers at Yash Raj Films should stop tormenting Bollywood fans and take their torture act to some other arena, preferably to a retail level rather than wholesale.
Come on Yash Raj guys, it's pack up time. Find a Jalebi stand in Jabalpur or how about a road-side barber shop in Bhagalpur. The movie business ain't your cup of tea anymore (if ever it was).
While some may be tempted to fob off Zyada Garbage, Zero Magic on unsuspecting moviegoers as a nice movie for kids, we say No. It's more of a kiddish attempt at moviemaking.
N.B: The print of Zyada Garbage, Zero Magic we watched at Phoenix Theater in the basement of Union Station in Washington DC was so horribly bad (blurred as if there were a camera shake) that we wondered if the fatuous bozos at Yash Raj had foisted a bad, low-resolution camcorder print on us to save money. Disgusting.
Related Stories: