You take all our Bollywood stars (the Amitabhs, the Shahrukhs, the Hrithiks and even the Kamal Haasans) and all our starlets (the Aishwaryas, the Priyankas and the Kareenas) – Tis' sad but true that the combined skills of all these Bollywood pygmies wouldn't match the extraordinary talent Will Smith and Charlize Theron bring to Hancock.
It's Will and Charlize – with their amazing performance – aided by the solid special effects, of course, that rescue the not-so-great Hancock story into a nice entertainer.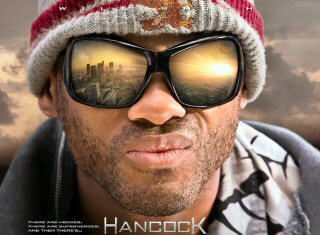 Hancock is the eponymous story of an alcoholic bum John Hancock (Will Smith) in Los Angeles with superhuman powers.
Like Superman, our Hancock can fly vertically and horizontally and yes, freight trains and heavy artillery are no match for his strength.
Unlike Christopher Reeve's Superman, our superhero Hancock – even as he goes about his mandatory good deeds – also leaves behind a trail of expensive destruction in his wake, much to the city's chagrin.
Outstanding actor as he is, Hancock is more than just Will Smith whooshing by.
Ray Embrey (Jason Bateman) is the public relations executive Hancock saves from the path of a huge freight train.
Ray's wife Mary, yes Mary of the smouldering eyes that could tell Homeric tales if only they were given a chance, is played by the South African actress and Academy Award winner Charlize Theron.
Having been saved from certain death, a grateful Ray wants to use his PR skills to help Hancock improve his public image and better interface with the public.
When you see even young kids going around calling Hancock an asshole to his face, you know Hancock has a serious image problem. Real serious problem.
Good movies always have nice twists that take you by surprise when the director decides it's time to let you in on the secret. And Hancock does not disappoint on this score either.
The Will & Charlize Show
We've always been fans of Will Smith. Be it I Robot, Hitch, Pursuit of Happyness, I am Legend or now Hancock, Will Smith has handled varied roles with great panache. This is an actor that expands the meaning of the term repertoire.
The intense performance of the seductively beautiful Charlize Theron – and oh, what expressive powers those eyes have – sucked out all the oxygen from our lungs and left us gasping for breath.
It's only after you watch actresses of the calibre of Charlize Theron that you realize how pukeworthy Indian actresses like Aishwarya Rai, Kareena Kapoor, Priyanka Chopra, Trisha and Nayantara are. These sows are affronts to the movie business, nay an embarrassment to all notions of art.
Nice Moments & Rare Chemistry
There are some nice moments in Hancock – as when Ray tries teaching Hancock to say Good Job or the fateful, passionate scene between Will Smith and Charlize Theron after Hancock has tucked Ray into bed.
Chemistry such as that between Will Smith and Charlize Theron on screen is a rare treat to behold. Savor such good things because the next trashy Bollywood movie is invariably round the corner.
Hey, Jason Bateman leaves behind a decent impression too as the PR guy trying to save the world.
Special Effects
All ye Bollywood and Kollywood fans, so you think the special effects in Krrish or Dasavatharam are great. Truth be said, they are not even spit-worthy compared to the amazing effects that Hollywood churns out in movies like Hancock.
Whether it's Will Smith hurling a rude kid into the stratosphere,  or the fight between Will Smith and, no, we won't tell you who, the special effects in Hancock are superb.
Hancock is not perfect (what is perfection anyway). The only shortcoming  – and a big shortcoming it is – in Hancock lies in the story. It loses steam after a while and is carried along only by the performances of Will Smith and Charlize Theron and the special effects.
No, Hancock won't blow you away but it won't leave you feeling shortchanged either.
Directed by Peter Berg (whose last movie Kingdom featuring Jamie Fox was just ok), Hancock released across the U.S. today.
Depressed as we are with the recent run of Bollywood and Kollywood trash like Thoda Pyaar Thoda Magic, Tashan, Sarkar Raj, Kuruvi and Dasavatharam, Hancock comes across as a welcome respite.
Hancock is supposed to be releasing in India on July 11, 2008 (on the same day as Mehbooba, featuring Ajay U Me Aur Hum Devgan, the notorious criminal and former drug addict Sanjay Dutt and Manisha Koirala).