Jaane Tu Ya Jaane Na – Box Office Report
Say what you will, but it's impossible to come out with a work of art when you are dealing with a most unoriginal and beaten-to-death theme like a teenage/college romance.
And Jaane Tu Ya Jaane Na is by no means a pathbreaking, extraordinary movie.
Produced by Bollywood superstar Aamir Khan et al, Jaane Tu Ya Jaane Na is just another movie that the Bollywood factory churns out by the dozens every year.
Although Jaane Tu Ya Jaane Na is no cause for celebration, it still turns out to be an above average, entertaining movie because of the talented cast comprising newcomers like Imran Khan (nephew of Bollywood superstar Aamir Khan) and Genelia (an import from the south), a tight script, OK music and a firm hand at the tiller in Abbas Tyrewalla (writer and director).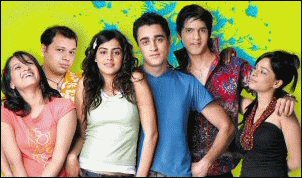 Jai (Imran Khan) and Aditi (Genelia) are part of a close-knit college clique.
The spunky, foul-mouthed Aditi and the cool, scrawny Jai are extremely close but vehently deny they are in love even as the world believes these two seemingly incompatible souls are made for each other.
While Imran Khan is not in the same league as another youngster Ranbhir Kapoor (Saawariya) in the acting department, he is light years ahead of dodos like Abhishek Bachchan, Upen Patel and Tushar Kapoor. The young lad is fairly easy and comfortable in front of the camera.
Genelia has made a name for herself in Tamil and Telugu movies. We saw her a few months back in the Tamil teenage love story Santosh Subramaniam. While the young lass is alright, she doesn't set the screen afire like some of our other favorites –Tabu, Meera Jasmine, Navya Nair, Jodie Foster or Charlize Theron.
For someone with over 20 films behind her, Genelia's performance in Jaane Tu Ya Jaane Na doesn't give us much hope that she will turn into an A-grade must-watch actress.
But to give Genelia credit, she's a passable actress and way ahead of her South Indian peers like those ugly South Indian witches Trisha and Nayantara.
Besides the hackneyed story, there were quite a few weird scenes. Like for instance, when the scrawny Jai lands quite a few punches on Aditi's better-built ex-fiance Sushant.
Also, the comedy angle with Paresh Rawal, who plays a police inspector, could have done with better integration with the rest of the movie.
While A.R.Rahman's music in Jaane Tu Ya Jaane Na is by no means his best work, it's not the dregs either. For the most part, the music in Jaane Tu Ya Jaane Na is tolerable.
It's not just Imran Khan and Genelia that turn in respectable performances. Other members of the college gang like Manjari Fadnis, Nirav Mehta and Alishka Varde, as well as Aditi's brother Amit, played by Pratiek Babbar (son of Smita Patil & Raj Babbar??) have also put forth decent performances too.
Hey, you could do a lot worse this summer than watch Jaane Tu Ya Jaane Na.