What an ugly trifecta – the most incompetent actress (Priyanka Chopra) in Bollywood meets the new dumbest actor (Harman Baweja) meets Mumbai's biggest jackass writer-director (Harry Baweja) in Love Story 2050.
Love Story 2050 is an unforgivable, unwatchable, unendurable, unfathomable piece of shit. There's simply no better way to describe this dung heap of a movie.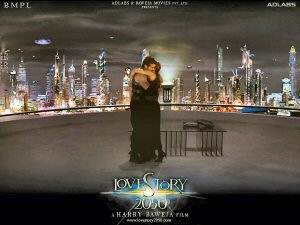 Love Story 2050 combines all of the worst elements in Bollywood – horrible acting by the lead actors Priyanka Chopra and Harman Baweja, a most asinine story, cacophonic songs, mediocre music and the tackiest computer graphics we've seen in a long time on the big screen.
Two hours and 55 minutes of mindnumbing torture is what we endured at the AMC Loews Theater on RT-1 in New Brunswich, New Jersey on Thursday evening. There were just 15 people in the whole hall for the 8:25 PM show of Love Story 2050 although it was the long weekend of July 4.
Perhaps the rest of the desi folks in the area were privy to something us dumb folk didn't.
Love Story 2050 is a disgrace, an ugly herpes sore on the pimple of Bollywood's dirty backside.
Jaane Tu Ya Jaane Na (which also debuted on Thursday in the U.S.) is orders of magnitude better than this ghastly nightmare called Love Story 2050.
Like a lot of bad Bollywood movies that are filmed abroad to mask the absence of a decent story, Love Story 2050 starts off in Australia where a chance encounter between the 23-year-old Karan (Harman Baweja) – neglected son of a wealthy and cold industrialist (Dalip Tahil) – and Sana (Priyanka Chopra) triggers off the lengthy torture session for viewers.
Karan is besotted with the young lady Sana, who ironically looks like his aunt in many a scene. Before you can delight in the undying love of these two souls, fate sends Sana off to her maker in the form of a big truck leaving an inconsolable Karan wailing like a blithering idiot.
Helping Karan in his moment of grief is his Uncle Ya, short for Yatinder Khanna (Boman Irani). An Einstein-resembling scientist, Uncle Ya takes Karan in his time machine to Mumbai in 2050 to meet Sana, who's now reborn as pop star Zeisha.
And if you think Mumbai is a fetid hell in 2008, it's worse in 2050 with all those weird computer-generated graphics of flying cars and motorcycles and tiny robots called Boo or bigger robots like Q.T. Often, the graphics looked positively amateurish.
A smart kid on a $1,800 Mac in Silicon Valley or at George Lucas' lab would probably produce better graphics than this Harry Baweja nightmare.
As if all these were not bad enough, in the second half of this horror-show we have to endure a nasty, masked character called Dr.Hoshi and a red-haired Priyanka Chopra – playing the rock star Zeisha.
Priyanka Chopra in one role is bad enough and the appearance of this bimbo in two roles means that the Hindu trinity Brahma-Vishnu-Maheswara must be really mad with the denizens of Planet Earth. An harbinger of some dreadful calamity, surely.
Like Priyanka Chopra, Harman Baweja is completely unschooled in the art and craft of acting. A rat or a bat (the flying kind or even a cricket bat) would probably do a better job at acting than this clown.
In a movie filled with crude attempts at acting, it's hard to pick the worst scenes. If pressed, we'd say some of the worst, and embarrassingly crude scenes in Love Story 2050 are when Sana is knocked down by a truck, and later Harman Baweja wailing to Boman Irani: My Sana is not here. It's not fair, Uncle Ya.
The simian contortions and ugly calisthenics that Priyanka Chopra and Harman Baweja attempt on screen do not constitute acting but represent a plaintive cry from the duo to lock them up in the same cell as orangutans.
Good music does not salvage the nonstop nonsense in Love Story 2050 because it just ain't there. None of the songs had meat. It was a traumatic experience watching those song/dance scenes. The song Hey you, Lover Boy will you be my toy will probably cause us nightmares till breath exists in our body (guess we have to be grateful, Priyanka didn't ask her Lover Boy to be her Boy Toy).
At two hours and 55 minutes, Love Story 2050 is way too long. Director Harry Baweja has obviously never heard of an editor in the movie business.
Hey, with this bumbling bunch of idiots a.k.a. Priyankas and Bawejas this piece of crap a.k.a. Love Story 2050 would have been too long even at 10 minutes.
Any doubts that God exists would be dispelled by the existence of foul garbage like Love Story 2050.
If you value your sanity, stay away from this stinker called Love Story 2050. This is not a movie but an appalling excuse for entertainment.
N.B.: You dying to watch a really nice movie this summer? We recommend the French movie Tell No One running at the Landmark Theatre – Sunshine Cinema in lower Manhattan on E.Houston St. A Real Gem.