When luxury car makers like Mercedes Benz start offering 0% financing deals for 72 months on 2008 cars, you know that the auto industry in America is well and truly screwed.
Our local newspaper today has a Mercedes Benz advertisement for 0% financing for 72 months on the E-Class 2008 models. Yes, they are for new cars.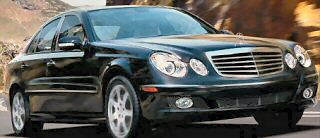 Mercedes Benz E-Class 350
Why are they offering 0% deals on Mercedes Benz cars? Simple answer – the cars are not selling. At least, not in enough numbers.
So the dealer and/or Daimler Benz has to add sweeteners to get customers to buy these high-priced, status symbol cars and get the cars off the dealer's lot.
0% Deals on Used Mercedes Benz Cars Too
The same Mercedes Benz dealership also has a 0% financing ad for 36 months on the C-class pre-owned (as in second hand or used) Mercedes Benz cars.
Of course, Mercedes Benz cars no longer have the same cachet they once did. For its price, the workmanship of Mercedes Benz cars is shoddy and the service lacking.
For instance, in the recent J.D. Power and Associates 2008 Initial Quality StudySM (IQS), Mercedes Benz had 104 defects per 100 vehicles the same as Toyota and behind Porsche (87 defects), Infiniti (98 defects) and Lexus (99 defects).
The industry average was 118 defects per 100 vehicles.
Mercedes Benz is not the only car maker in the U.S. to offer 0% financing deals. You can get 0% financing deals on Honda, GM and Ford cars as well.
What do we think?
We feel a robust public transportation network is the answer to the high gas prices and the negative environmental impact of millions of cars belching harmful fumes into the atmosphere. But ours is a cry in the wilderness.
Except in some cities like New York and Chicago, public transportation in the U.S. is virtually non-existent.
Public transportation in India, however inadequate, is a gazillion times better.