Sun Microsystems, one of the worst IT companies in Silicon Valley, has turned in a lousy performance in its fiscal fourth quarter ended June 30, 2008.
Ugly Summary of Sun's Q4 Disaster:

* Revenues were down
* Profits were down 73%
* Gross Margin was down
* Product Revenues were down
* Only service revenues were up slightly
Well, did you expect anything different from the clueless bozos at this ailing company.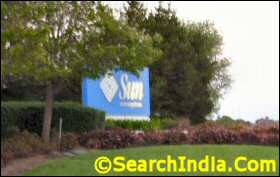 Sun setting on Sun Microsystems
Sun reported revenues of $3.78 billion for the quarter, down 1.4% over the same period a year.
Sun's performance is just pathetic when you look at how its rivals are faring.
In its latest quarter, Sun's Silicon Valley rival HP reported a 11% jump in revenues to $28.26 billion. That's the difference between a badly managed company like Sun and a well-managed business like HP.
Yes, this is the same HP that Sun's former CEO Scott McNealy used to derisively refer to as that printer ink company. Look, who's having the last laugh now?
Sun's net income for the quarter collapsed 73% to $88 million(11 cents per share) from $329 million (36 cents per share) for the fourth quarter of fiscal 2007.
Following Sun's poor Q4 showing, Goldman Sachs analysts David Bailey and Min Park wrote in a note to clients that Sun's results provide:
another piece of evidence that the problems the company faces have no short-term fixes, and we would continue to avoid the shares. (Source: New York Times.)
Sun ended its fiscal 2008 with 34,900 employees. If you ask us, that's 34,900 too many employees. The only silver lining is that Sun expects to end Fiscal 2009 with 33,000 employees, getting rid of 1,900 either through layoffs or attrition. We say, fire everyone without any benefits.
Sun Microsystems has no future.
And things are getting worse – Sun warned yesterday that its Q1 (the company's current quarter) revenues would be down and that it would not report a profit on GAAP basis.
We have long advocated that all the bozos at Sun must be kicked out, the mismanaged company shut down and the money returned to shareholders.
Sun's shares fell 12.32% to $9.32 Friday. Want to bet that Sun will become a penny stock and start trading on the Pink Sheets?