You can't miss them.
They are everywhere in Manhattan.
From Pondicherry Masala Dosa to Pretzels, Hot Dogs to Curry and Peanuts to Falafel, New York City's thousands of food carts offer a dazzling choice of hot food.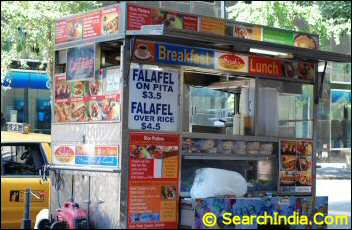 A food cart in New York City
There's even an annual Vendy Award to honor the best food cart stand in New York City.
Last year, the Dosa Man Thiru Kumar (from Sri Lanka) walked away with the top honors.
Next time you are in Manhattan, get a bite to eat at the food carts.
These food carts are as much a New York City landmark as the Met, Statue of Liberty, Broadway and Times Square.