Singh is Kinng Collapses in U.S.; Down 70%
Despite all the hype and hoopla about this Akshay Kumar fella becoming the next superstar and dethroning Shahrukh Khan from his high perch, Singh is Kinng has not done that well at the U.S. box office compared to Om Shanti Om (Shahrukh Khan) and Jodhaa Akbar (Hrithik Roshan).
Clearly, Shahrukh Khan and Hrithik Roshan have proved that they are bigger box office draws than this bachcha Akshay Kumar.
Truth be said Singh is King is an infinitely worse movie than Om Shanti Om and Jodhaa Akbar. So we are not surprised at all that the box office reflects the poor quality of this pathetic movie.
Singh is Kinng came in at No-15 with a weekend gross of $950,000.
The crappy Singh is Kinng, which released in 109 theatres, had an average gross of $8,715.Â
Here's how Singh is Kinng fared at the U.S. box office compared to other prominent Bollywood movies: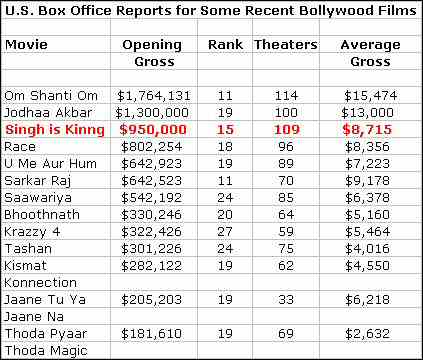 Hey, Singh is Kinng's average gross in the first weekend was lower than even Ram Gopal Varma's nightmare Sarkar Raj.
As SearchIndia.com wrote in the Singh is Kinng review:
Like Attila the Hun, the mad doctor of Auschwitz Josef Mengele and Ivan the Terrible, Akshay Kumar and his fellow bozos in Singh is Kinng have unleashed a horror show that has few parallels except with the awfully sordid.
If the first weekend box office numbers are anything to go by, Shahrukh Khan need have no fear that this Akshay Kumar fella will dethrone him any time soon.
N.B1: The box office data for Singh is Kinng in the U.S. has been updated. Please see below:

N.B 2: The box office data for Singh is Kinng in the U.S. has been revised again. Please see below: