If you are in Mumbai and looking for some dealers in stolen property, the folks to contact are two kameena (scoundrels) Amitabh Bachchan and Salman Khan.
Both these thieves seem to have made a habit of profiting from others' intellectual property (Examples: Partner (Hitch), Ek Ajanabee (Man on Fire), Hum Kisi Se Kum Nahin (Analyze This).
Since these two blackguards Amitabh and Salman are not kids and have unfortunately been around for donkey's years in Bollywood, they can't use the old, criminals excuse that they didn't know it.
Outright Theft
God Tussi Great Ho is the latest example of these two Bollywood stars involving themselves with stolen property.
Say what you will but God Tussi Great Ho is a pathetic copy of the Jim Carrey comedy Bruce Almighty (2003).
Bruce Almighty was a fairly decent comedy thanks to Jim Carrey's superb performance.
The best that can be said of God Tussi Great Ho is that it reminded us of photos of advanced syphilis we once saw in a book at one of the British Council libraries in India.
God Tussi Great Ho is that bad.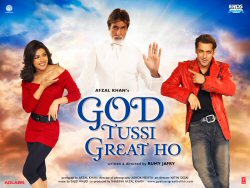 Although these two dinosaurs Salman Khan and Amitabh Bachchan have been around in Bollywood for a gazillion years, yet their performance in God Tussi Great Ho is not even a millionth as good as that of Jim Carrey and Morgan Freeman in Bruce Almighty.
Like Bruce Almighty, God Tussi Great Ho is the story of an young man Arun Prajapathi a.k.a AP (Salman Khan) who constantly rails against God for his bad luck prompting God (Amitabh Bachchan) to hand over his responsibilities to AP for 10 days.
Watching Salman Khan in God Tussi Great Ho is punishment for sins committed in the last seven lives. This fella is that bad, particularly in the early scenes when standing on the window ledge of a high building he yells at God in the ugliest possible manner. Like a lunatic.
Jim Carrey is a class actor. Salman Khan a crass actor at best.
And the difference between the great Morgan Freeman (who plays God in Bruce Almighty) and this bozo Amitabh Bachchan is like the difference between a small sand-heap at a Navi Mumbai construction site and Mount Everest.
Salman Khan's younger brother Sohail Khan (who is featured as the rival TV anchor Rocky, the role played by Steve Carell in Bruce Almighty) is a nicer dancer and does a better job overall.
Jennifer Aniston is not a great actress but she was a million times better in Bruce Almighty than the horror show and walking nightmare Priyanka Chopra in God Tussi Great Ho.
The first meeting between Bruce (Jim Carrey) and God (Morgan Freeman) in Bruce Almighty where you see Morgan Freeman mopping the floor in a rundown building and asking Bruce to give him a hand had a certain elegance and elan. It had class written all over it.
When AP (Salman Khan) meets God (Amitabh Bachchan), it's in the Hyatt Hotel with God introducing himself to AP as God. What an unimaginative scene, a crude piece of shit.
The so-called comedy elements involving Rajpal Yadav's fixation with pretty girls or Anupam Kher with his municipality job nonsense are asinine distractions that serve no purpose except to irritate the audience.
Music is the saving grace of some of the ugliest Bollywood films. But God Tussi Great Ho's speciality is that there is not a single redeeming feature that makes this movie tolerable for even one minute. Not one frame in God Tussi Great Ho is worth watching.
Even chimps would dance better than Salman Khan. Whatever Salman Khan and Priyanka may have been doing in all the song/dance numbers (be it Tujhe Aksa Beach Ghuma Doon or Let's Party), it certainly wasn't dancing.
From the first song/dance Tujhe Aksa Beach Ghuma Doon to the last Lal Chunariya, God Tussi Great Ho is an unforgiving onslaught on the eardrums and eyeballs.
In a movie when every song/dance is absolutely pathetic, it's hard to pick the worst. But if pressed, we'd say the worst was the title song O God Tussi Great Ho.
The tragedy of God Tussi Great Ho is its reckless disregard for the most basic standards of entertainment and wanton contempt for the audience.
Watch this sickening piece of crap a.k.a. God Tussi Great Ho only if you are a glutton for punishment, the kind that takes joy in chanting whip me, please whip me.