Akshay Kumar's crap show Singh is Kinng has collapsed at the U.S. box office in the second weekend (August 15-17, 2008).
Compared to this Akshay Kumar fella, Shahrukh Khan and Hrithik Roshan managed to do a far better job with Om Shanti Om and Jodhaa Akbar respectively in the second weekend at the U.S. box office.
For the August 15-17 weekend, Singh is Kinng grossed $348,577 from 110 theaters with an average gross of $3,168.
Take a look at how some prominent Bollywood films fared in the second weekend at the U.S. box office: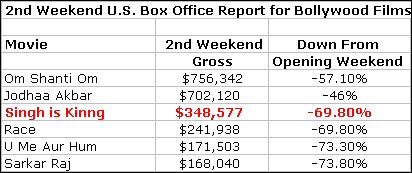 We are not surprised by the dramatic collapse in Singh is Kinng's box office collections.
Here's a brief preview of the kind of total garbage you can expect from this piece of trash Singh is Kinng:
1. What happens when a paralytic guy is pushed down the staircase? He gets cured and stands up.
2. Scatalogical crap like one fellow (Akshay Kumar) pissing on another man's face (Akshay Kumar just loves this kind of crap because even in his previous film Heyy Babyy – an ugly copy of Three Men and a Baby – we literally had shit flying about).
3. Infantile humor like a man (Akshay Kumar again) running his crotch into a table fan.
4. The Australian police give the two yokels Akshay Kumar and Om Puri a ride on their boat to a dreaded gangster's mansion.
Such is the nonsense you can expect from this pathetic piece of shit a.k.a. Singh is Kinng. Watch this garbage at the peril of losing your sanity.