Nazia who, might well be the question posed by youngsters in India today.
Pakistani Crooner
Well, Nazia was a young London-based Pakistani pop singer who became an overnight sensation with Feroze Khan's Qurbani (Zeenat Aman, Feroze Khan, Vinod Khanna) in 1980.
Nazia followed up the Qurbani success with her first LP Disco Deewane (Nazia's brother Zoheb and Indian composer Biddu collaborated on the project).
You can listen/watch to the title song Disco Deewane via YouTube here:
The Disco Deewane disc went gold on the very first day of its release April 3, 1981, selling 100,000 LPs and Dolby cassettes.
And in less than three weeks Disco Deewane went platinum.
As one Indian magazine wrote then:
In India, such a sales record is without precedent. No album has ever gone gold in less than two months, and platinum in under six.  (Source: India Today, May 1-15, 1981, P.142)
You know, how long it took Bobby to go platinum – eight months.
Besides the title track Disco Deewane, our other favorites from the album are Ao Na, Lekhin Mera Dil and Dil Mera.
India had never seen anything even remotely like this.
The shock-waves of the Disco Deewane success were felt by everyone, including the most haloed of Indian light music personalities. Within a week of the album's release, Lata Mangeshkar, the jealous mistress of popular music, felt threatened enough to fly to Calcutta for an evening's concert for which she charged Rs three lakh.  (Source: India Today, May 1-15, 1981, P.143)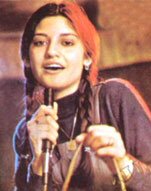 Nazia Hassan
(Photo: Nazia Hassan Foundation)
Asked about her sudden celebrity status in India, this is what the 16-year-old Nazia had to say:
Well, sitting here it does seem very far away. It really hasn't affected my life. It's very hard to imagine that my songs are being played everywhere in Indian cities. Like today, you've called from Delhi, and that is a surprise but generally it hasn't made a difference to my life; I'm really trying to concentrate on my studies. I can't even come to India because I have school to attend. (Source: India Today, May 1-15, 1981, P.142)
Sadly, Nazia was never able to replicate the success of Qurbani or Disco Deewane in her subsequent work.
Nazia Hassan died of lung cancer in 2000 at the age of 35.