U.S. Democratic presidential candidate Barack Obama made it clear where he stands on the contentious issue of outsourcing that has snatched several thousand well paying jobs from Americans and handed them over to the cheaper Indian and Chinese coolies.
In his acceptance speech, this is what Obama had to say:
Unlike John McCain, I will stop giving tax breaks to corporations that ship jobs overseas, and I will start giving them to companies that create good jobs right here in America.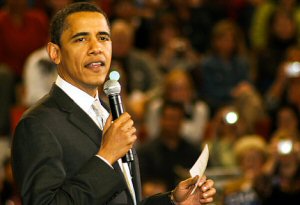 U.S. companies ranging from IBM to HP to Sun to GE to EMC to Intel have established massive operations in India and China that have had a devastating impact on the middle class in America.
While technology companies have been at the vanguard of this outsourcing wave, other companies like financial service providers American Express, Citigroup and a long list of others are no less culpable.
Both Republicans and Democratic politicians are responsible for the outsourcing disaster, but more so the corporate-friendly Republicans.
McCain's close adviser is Carly Fiorina, the former CEO of HP whose only claim to fame is the following insensitive comment:
There is no job that is America's god-given right anymore.
How would Indians react if their well-paying jobs were outsourced on a large scale to Bangladesh, Nepal or Pakistan?
Knowing our desis well, we can safely say that there will be violence and anarchy on the streets of Bangalore, Hyderabad, Pune, Chennai and Noida. Buses and buildings will be destroyed, effigies of N.R.Narayana Murthy and Azim Premji will be burned, Infosys and Satyam offices will be torched, the BSE Sensex will crash and there will be widespread riots. In short, There will be Blood.
In contrast, the suffering Americans have taken all of the outsourcing blows stoically. On several occasions, the American employees who lost their jobs had to train their Indian replacements before leaving. If this is not a Learean tragedy, we don't know what else is.