Google is jumping into the browser fray with a new browser called Chrome that'll take on both Microsoft's Internet Explorer and the open source Firefox browsers.
The beta or trial version of Chrome, which will also be an open source browser, will debut tomorrow. You can download Chrome here.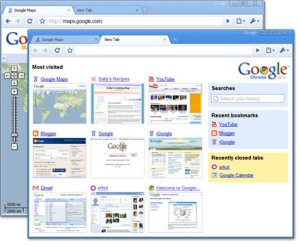 This is what Google's VP of product management Sundar Pichai had to say about Chrome:
Under the hood, we were able to build the foundation of a browser that runs today's complex web applications much better. By keeping each tab in an isolated "sandbox", we were able to prevent one tab from crashing another and provide improved protection from rogue sites. We improved speed and responsiveness across the board. We also built a more powerful JavaScript engine, V8, to power the next generation of web applications that aren't even possible in today's browsers.
Google said in a blog post that the first version would support Windows.
Versions of Chrome for Linux and Mac are supposed to be under development.
We've been using the Firefox browser for several years and strongly recommend it. Chrome uses some components from Firefox as well as Apple's WebKit.
Although Chrome has the power of Google behind it, we don't see it gaining significant marketshare anytime soon.
Internet Explorer currently has 72% marketshare and Firefox about 20%, according to Net Applications.
Other prominent browsers in use include Apple's Safari and Opera.