Today i.e. August 29, 2014, Indians across the world celebrate Ganesh Chaturthi in honor of the birthday of Lord Ganesh (the son of Shiva and Parvati and a favorite God for millions of Hindus).
Does anyone now how old Ganesh is?
In several states of India, Ganesh Chaturthi is celebrated for several days and at the end of the festivities the idol of Ganesh is immersed in the river or sea.
Across the U.S., Ganesh is a prominent fixture at most Hindu Temples.
During our travels over the last several years, we've had the occasion to view Lord Ganesh in varied forms in the U.S.
In the festival spirit of Ganesh Chaturthi, SearchIndia.com presents the many faces of American Ganesh.
We start first with Ganesh at the Columbus (Ohio) Temple.
On the East Coast, at the Divya Dham Temple (below) we found this lovely Ganesh during a temple darshan with some Gujaratis.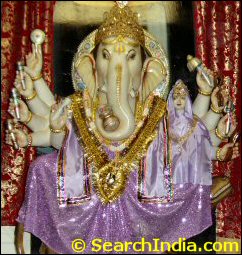 Ganesh @ Divya Dham
Elmhurst, NY

A few hundred miles south in Richmond, we found this entrancing Ganesh at the Hindu Temple in Richmond (Virginia). Notice Ganesh's vehicle, the mouse, at the bottom.
About hundred miles north in Chantilly (Virginia), we found this Ganesh with large flapping ears at the Rajdhani Mandir (below).
In the temple town of Pittsburgh, there is a nice Ganesh in the company of his parents Shiv and Parvati at the Hindu-Jain temple.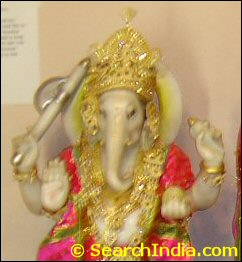 Ganesh @ Hindu Jain Temple
Pittsburgh, PA
On the West Coast too, there are plenty of Ganesh devotees (is there any place in the world without Ganesh devotees).
Right near the Mexico border in San Diego, we found this beautiful Ganesh at the Shri Mandir.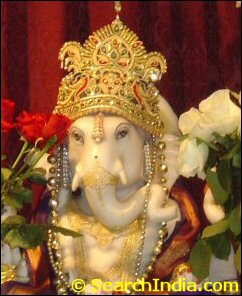 Ganesh @ San Diego (California)
Several hundreds miles north of San Diego, we found this charming Ganesh at the Siddhi Vinayak Temple in Sacramento a few years back.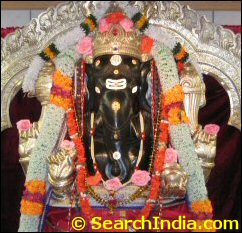 Ganesh @ Sacramento (California)
In Silicon Valley, home to a large Indian population, we found this Dollar Ganesh (below) in San Jose.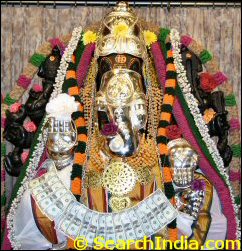 Ganesh
Lakshmi Ganapathi Temple
San Jose, CA
Wonder what the Americans would think if they knew that George Washington (on the $1 bills) was adorning Lord Ganesh at the Lakshmi Ganapathi Temple in San Jose, CA.
In the Malibu Hills (outside Los Angeles), we found this Ganesh (below in granite).
To see more pictures of your favorite American Hindu Gods, please click here.