As strong supporters of public transportation and the little man against the big corporations, we can't help but wish that Mamta Banerjee screws or at least seriously delays the Tata Nano project in Singur (West Bengal) so that costs escalate and the car becomes unaffordable.
We fear that cars like Nano will distract from necessary attention to improving public transportation, exacerbate the pollution and increase gas prices.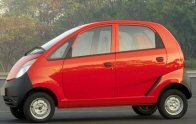 Cheap Car or Costly Curse?
More pollution and higher gas prices will have a disproportionate negative impact on tens of millions of poor Indians, who literally live on the streets.
Protests by farmers over insufficient compensation for the acquisition of their land has led Tata Motors to suspend work at the Singur plant where the $2,500 Nano car is being manufactured. 
Trinamool Congress leader Mamta Banerjee is spearheading the protests against the Nano project.
Tata's Singrur plant has an initial capacity of 250,000 Nano cars.