(Blogging via iPhone 3G)
13:25 – Sitting in theatre – Waiting for Righteous Kill (Robert De Niro, Al Pacino) to start. Too many silly ads.
13:30 – Getting impatient.
13:35 – Review coming in a few hours.
13:40 – Watching preview of Blindness…interesting
13:48 – Watching preview of Lakeview Terrace (Samuel Jackson)…interesting
————————-
Going to a Hollywood movie featuring both Robert De Niro and Al Pacino is like going to a Bollywood production starring Kamal Haasan, Shahrukh Khan, Amitabh Bachchan, Aamir Khan and Naseeruddin Shah (yes, all of them in a single movie).
Yeah, the adrenaline is high, the heart is pumping wildly, the excitement is at a fever pitch and your expectations run sky-high. It's almost like just before your first time, you know.
So when a much-anticipated movie like Righteous Kill (directed by Jon Avnet) falters from the get-go and turns out to be a big disappointment, the ache in your heart is magnified a million times and the agony more unendurable than if you watch trash like Sarkar Raj or Singh is Kinng.
Simply put, in Righteous Kill director Jon Avnet, writer Russell Gewirtz and the two Hollywood legends Robert De Niro and Al Pacino squander an opportunity that may never arise again.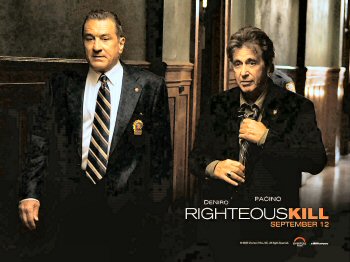 While Righteous Kill fails to satisfy on many levels, let's first drop the guillotine on the bozo (Russell Gewirtz of Inside Man fame) who wrote this mediocre cop story that never once soars.
Both Robert De Niro and Al Pacino cheat us of a peek into their vaunted acting prowess. You have a hard time believing these are the same folks that brought us Taxi Driver (Robert De Niro), a cop movie like Serpico (Al Pacino), or gangster movies like Scarface (Al Pacino) and Godfather (Al Pacino).
De Niro sports a mean, angry and grim expression for the most part while Pacino looks as if he just came off the cocaine he was snorting with such relish in Scarface. So what?
Carla Gugino plays De Niro's girlfriend and a crime scene investigator but she doesn't have a big role. You see, Righteous Kill is all De Niro and Pacino.
And all disappointment.
You expect a cop movie to gallop or at the least move at a very brisk pace. This one does not, ain't no velocity here.
Given the surfeit of cop movies and never-ending TV shows like Law & Order, it's very, very hard to make nice cop movie anymore. But nobody ever said making great art was easy.
Turk (Robert De Niro) and Rooster (Al Pacino) are NYPD detectives on the hunt for a serial killer.
Unlike your usual sinister, warped serial killer, this one's knocking down the bad guys – the ones that the law finds difficult to touch. Kind of like our architect friend Charles Bronson in the 1970s Death Wish series.
Soon fellow NYPD cops Perez (John Leguizamo) and Riley (Donnie Wahlberg) realize that the perpetrator of the killings is one of their own and the needle of suspicion falls on ….
Al Pacino is 68 and Robert De Niro 65. And they both look it. Just as the movie has a tired look and feel.
Never once in Righteous Kill was there a blazing moment of perfection or a scene that sent our pulses racing.
Even the twist in the tale failed to give us much joy though it did please a few others (going by what we heard in the rest room).
Overall, Righteous Kill is lightweight fluff unworthy of Robert De Niro or Al Pacino.