Stocks of several major Indian software firms including Satyam, Infosys, Wipro, Tata Consultancy Services and Patni have taken a severe beating this year and are currently trading close to their 52-week lows reflecting serious investor concerns about the future growth prospects.
Take a look at how the stocks of some prominent Indian software companies have fared this year in the below table: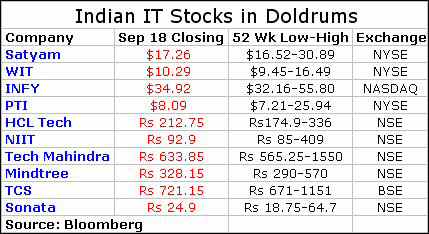 Indian newspapers have also been rife lately with reports on layoffs at the big Indian IT firms like Satyam.
With merger/collapse of major financial institutions on Wall Street and no let-up in the overall bad economic news emanating out of the U.S., a major export destination for several of the top Indian software firms, the stock prices of these Indian IT bellwethers could drop further.
Related Stories:
Party Over for Indian Software Coolies
Big Layoffs Coming for Indian Software Coolies
HP to Fire 25,000; How Many Thousands in India?