With T-Mobile launching G1 – the first cell phone powered by Google's Android operating system – today in New York City, the big question is whether the Linux-based Android phones can slow down the momentum of Apple's iPhone.
Manufactured by Taiwanese firm HTC, the T-Mobile G1 phone will start selling on October 22 in the U.S. for $179 with a two-year voice and data agreement. Unlimited Internet access+400 messages is $25 per month. Add $10 for unlimited messages. Voice charges are additional. They will be available in the U.K. in November and elsewhere in Europe in 2009.
While the T-Mobile G1 is $20 cheaper than the entry-level 8GB iPhone 3G, it comes with only 1GB memory on a memory card (maximum of 8GB).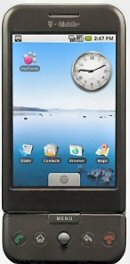 T-Mobile G1
The touch screen-based T-Mobile G1 includes a pull-out QWERTY keyboard, a trackball and the usual Google services like Google Maps with StreetView, Gmail and YouTube. It supports 3G, Wi-Fi and the slower Edge network.
The phone features a 3-megapixel camera, an HTML e-mail client and support for AOL, Yahoo Messenger, Windows Live Messenger and Google Talk instant messaging services.
G1 comes pre-loaded with the Amazon MP3 application to let users buy DRM-free songs and albums from Amazon.com's vast music store of six million songs.
Android Market
The T-Mobile G1 will also let users access Google's upcoming Android Market store to download applications that expand the functionality of their phone.
Android Market is similar to Apple's App Store, which was launched in June and now has over 3,000 applications in several categories including news, games, entertainment and utilities.
Google is promising dozens of applications on Android Market when the Android phone goes on sale next month.
Features in T-Mobile G1 Lacking in iPhone
* Copy-paste functionality
* Pull-out physical keyboard
* Trackball for single-handed navigation
* Memory card slot
Where the iPhone is Ahead
* Better look and feel
* Superior multimedia capabilities
* Integration with iTunes, the largest music retailer
* Over 3,000 applications available in App Store
* Available widely now including in India
* Built-in storage (8GB or 16GB)
Meeting the Apple iPhone Challenge
While the first Android phone is still not in consumers' hands, Apple's iPhone is already available in dozens of countries including India and the company is targeting sales of 10 million iPhones this year.
Apple's App Store, which lets users get new applications to expand the functionality of the iPhone and its sibling, the iPod touch, is already a huge hit with consumers – over 100 million applications have been downloaded since the App Store went live in June.
Google's success with Android will depend on three things:
1. The quality of the phone and how it compares with the iPhone and Blackberry.
2. Fostering a large ecosystem in terms of applications and accessories for the Android phones like Apple has done with the iPhone.
3. Striking deals with large cell phone operators to offer Android phones. With about 31.5 million subscribers, Google's partner T-Mobile is the smallest of the Top Four U.S. cell phone operators while the iPhone is sold by the largest U.S. mobile operator AT&T.
Wooing Application Developers
It's not clear if application developers, particularly the smaller developers, will spend time and effort in writing their applications to multiple mobile phone operating systems.
Clearly, Apple has the momentum and headstart here with application developers flocking to the iPhone.
At the last count, there were several thousand applications for the iPhone, both free and paid, and more coming daily. India-related applications for the iPhone include India News and Panchang.
Market researcher Strategy Analytics forecasts that the Google Android operating system will account for 4% of all smartphones sold in the U.S. during the fourth quarter of 2008. With 10.5 million smartphones projected to be sold in the U.S. during Q4 2008, smartphones with Android should reach 400,000 units in the quarter.
First Impression
Early reports suggest that the G1 can't match the iPhone.
The first iteration of the Android phone is not perceived as a game-changer.
Here's what Saul Hansell of the New York Times had to say:
After playing with the G1 for 20 minutes, my initial take is that the G1 is the PC to the iPhone's Macintosh.