Everybody deserves to be on the mobile Internet, and price shouldn't stand in the way of anyone having a truly good smartphone to get them there. – Motorola blog post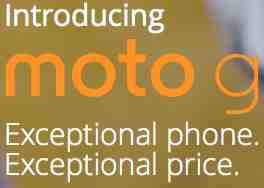 Google's Motorola unit drove a $179 pike into Apple's pricey $649 iPhone coffin with the launch of its new Moto G smartphone.
The prices are for unlocked smartphones without those vexing two-year contracts with the carriers.
Moto G's main claim to fame is that the device "delivers a premium experience for a third of the price of current high-end phones."
If Moto G takes off, it could be another blow to Apple, which is bleeding market share for its pricey iPhones that start at $649 (non-contract, unlocked versions).
Motorola badly needs a big hit. Continue reading » (more…)