Drona Review – Pathetic Piece of Shit
Kidnap Review – Lousy Boob Show
Imran Khan came out of nowhere and provided one of the surprise Bollywood hits of this year – Jaane Tu Yaa Jaane Naa.
Produced by Imran's uncle and senior Bollywood actor Aamir Khan, Jaane Tu Yaa Jaane Naa was a slick teenage love story that also featured Genelia D'Souza, an import from the south.
Adding to the appeal of Jaane Tu Yaa Jaane Naa were some nice songs like Pappu can't dance saala.
Given JTYJN's box office success and Imran Khan's polished performance in the movie, it's no surprise that Bollywood fans are eagerly anticipating this talented young lad's second movie Kidnap, which releases on October 2.
We found Imran Khan to be a decent actor, lightyears ahead of bozos like Abhishek Bachchan whose Drona also releases on the same day.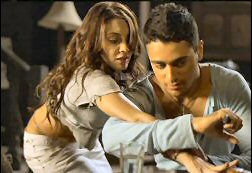 Imran Khan & Minissha Lambha
Considering Abhishek Bachchan's lackluster performance in over two dozen films, we have low expectations from this gofer (chai-wallah), whose sole claim to fame is his last name. Abhishek's last few movies like Sarkar Raj and Jhoom Barabar Jhoom were beyond pathetic and box office fiascos. 
That nightmare of an actress Priyanka Chopra, whose recent movie Love Story 2050 is still giving us sleepless nights, also has a key role in Drona, a super-hero drama that relies a lot on special effects/computer graphics. Kay Kay Menon plays the villain in Drona.
Goldie Behl, the architect of the Bas Itna Sa Khwaab Hai (2001) flop, is the director of Drona.
By the way, we were not too impressed with the songs from Drona. 
Besides Imran Khan, Kidnap also features that real-life criminal and convict Sanjay Dutt, the non-actress Minissha Lamba and Vidya Malavade.
Minissha Lamba was an utterly hopeless bimbo in Bachna Ae Haseeno and we don't expect much from this clown in Kidnap.
Kidnap seems to belong to the action/thriller genre with Imran Khan playing the role of a young man who kidnaps the daughter of a billionaire Sanjay Dutt to settle an old score (shades of Baazigar??).
Before you can say Stockholm Syndrome, the victim is in love with her kidnapper in Kidnap.
Sanjay Gadhvi (of Dhoom and Dhoom 2 fame) has directed Kidnap.
The story is by Shibani Bathija while Pritam takes credit for the film's music.
We listened to the Kidnap songs and found them way better than the Drona songs.
Related Stories:
Kidnap Movie Showtimes in USA
Drona Movie Showtimes in USA