Thieving Bollywood Scumbags Strike Again with Kidnap
Hey, if we were desperate to drool over some nice boobs we'd have gone to a titty-bar not to the Kidnap movie to ogle at Minissha Lambha's not-so-great tatas on a screen that's over 30-feet away.
Minissha Lamba's so-so hooters notwithstanding, Kidnap director Sanjay Gadhvi milks them knockers all he can in desperate hopes of holding on to viewers attention.
Sure, Minisha Lambha's titties are better than Aishwarya Rai's bee-stings but still they ain't nothing to write home about.
Whether it's the tits, the story, the acting or the music, Kidnap is the pits. This movie just doesn't have any saving graces.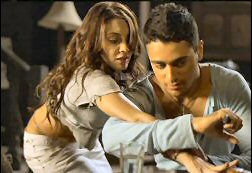 And we are very disappointed because we'd pinned much hopes on this movie because of Imran Khan's compelling performance in Jaane Tu Yaa Jaane Naa.
But in Kidnap, Imran Khan is a shadow of his JTYJN self. His dialogs in Kidnap are mostly flat and the range of emotions and expressions he brought to the screen showed a very limited repertoire.
At times, Imran Khan seemed to borrow heavily from the Abhishek Bachchan zombie-school of acting a.k.a sleep-walking through the role leading us to ask ourselves whether JTYJN was a mere fluke.
In several crucial scenes, Imran Khan just doesn't deliver the acting goods. Like for instance in his confrontation with Sanjay Dutt or the near-rape of his victim after she stabs him with a broken bottle in a bid to escape.
From the horrible actress Minissha Lamba, not much was ever expected. And not much was delivered except in the way of more skin-display here compared to her previous flick Bachna Ae Haseeno. In that sense, Kidnap may even be seen as Minissha's first foray into the skin-flick genre of movies.
Whether this sexposure will pay off for Minissha Lambha in the long run, remains to be seen.
Sanjay Dutt, who plays Minissha's billionaire take-control father, doesn't do anything spectacular to earn our admiration and neither does Vidya Malvade, who plays Minissha's mother.
As is to be expected from the title of the movie, 18-year-old Sonia (Minissha Lambha) is kidnapped by Kabhir (Imran Khan) to settle an old score with her father, the billionaire Vikrant Raina (Sanjay Dutt).
If Vikrant Raina wants to get his daughter back, he has to follow a bizarre set of clues left by Kabhir.
The story did not hold our interest for long because it didn't bring anything new and the whole kidnapping and clues thing were all too clumsily handled.
Good kidnap dramas like the Denzel Washington-Dakota Fanning  movie Man on Fire heighten the excitement by showing the actual kidnapping and the accompanying violence in great detail . None of that was seen in Kidnap wherein the actual kidnap scene was kidnapped by the director Sanjay Gadhvi and shown all too briefly later.
The revenge element too failed to build up into a nice drama and fell flat because of the limitations of the story and ho-hum acting by the dramatis personae.
The ending was as amateurishly done as the rest of this boring movie.
Unlike the well picturized peppy numbers in JTYJN like Pappu can't dance saala, none of the songs in Kidnap sent our adrenalin rushing.
Titillation, by way of thrusting Minissha's tits into our face, was the sole raison d'etre of the two songs Mausam and Hey Ya. But that trick didn't work, at least not on us. Other tittophiles may have different opinions, of course.
We found Meri Ek Ada Shola more tolerable than the other songs.
Bottomline – Kidnap, like Abhishek Bachchan's Drona, is worth missing.