The latest issue of New Yorker magazine (Oct 6, 2008) has an HSBC commercial banking ad on P.30 which claims that in Punjab washing machines are not used just for laundry.
Apparently, washing machines are also used in the North Indian state of Punjab as a yoghurt blender to make that delicious drink all Indians love – Lassi.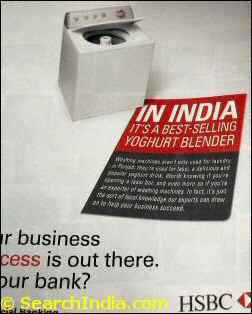 Lassi Ad in New Yorker (P.30)
God almighty. Can this really be true?
Wonder what they use the dryer for in Punjab? Any idea?