Abhishek Bachchan Sets New Pathetic Record
Bollywood flop king Abhishek Bachchan's latest trashy movie Drona is a total disaster at the U.S. box office and may turn out to be the biggest flop of 2008.
Bollywood fans have shown Drona's hero Abhishek Bachchan the middle finger and basically told this bozo to take his garbage act elsewhere.
For the October 3-5, 2008 opening weekend, the crappy movie had a gross of $199,329 in the U.S., one of the lowest openings for an established Bollywood star.
The harrowingly bad movie had an average gross of $2,215, one of the lowest we can think of in 2008 for a Bollywood movie.
Drona opened at No-30 at the U.S. box office, again an embarrassing low for a much hyped Bollywood movie.
Take a look (below table) at where Drona comes in vis-a-vis a few recent Bollywood movies: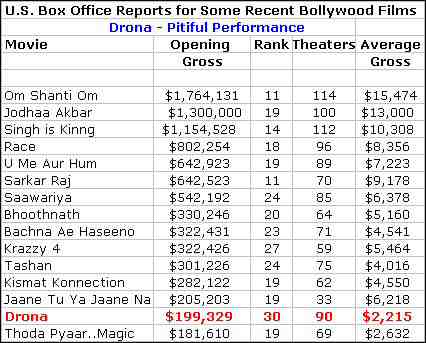 (Since Drona opened in some theatres on Wednesday, the total gross is $237,647. We've used the weekend figures of $199,329 to ensure apple-to-apple comparison with other Bollywood movies.)
Even awful Bollywood movies like Tashaan, Bhoothnath, Kismat Konnection had higher opening gross and higher average gross.
So the inescapable conclusion is that Drona is worse than awful.
Compared to Drona's miserable reception at the box office, Abhishek's previous nightmare Sarkar Raj was a superhit.
Describing Drona as a pathetic piece of shit, SearchIndia.com wrote in the review of the movie:
Compared to the nightmare that Drona represents, Love Story 2050, Sarkar Raj and every other ugly Bollywood movie ever made is a Oscar-worthy masterpiece.

Take it from us, this duffer called Abhishek Bachchan can't act.

…. the Drona story is so utterly unconvincing and unappealing, the settings are so amateurish, the music is so pedestrian, stunt scenes are downright mediocre and the overall effect of watching Drona is of walking into a room full of Down's Syndrome cases.
Drona – Waterloo for Abhishek Bachchan?
We find it hard to accept that Abhishek Bachchan has a future in Bollywood. That is unless he opens a catering business to supply chai and bhajia to Bollywood movie sets.
Just look at the negatives Abhishek Bachchan has to contend with:
* The duffer can't act.
* The blunderer picks movies without paying attention to the script or the caliber of the director.
* The amateur makes no effort to learn the craft of acting.
* The bungler is just no match for the track-record or the talent of the reigning Bollywood superstars SRK, Hrithik Roshan and Akshay Kumar.
Abhishek Bachchan's Positives
The two positives of being born in the Bachchan household and the reflected glory that comes from being married to Aishwarya Rai can't compensate for the overwhelming negatives Abhishek Bachchan is burdened with.
Barring a miracle, Drona is Abhishek Bachchan's Waterloo.
All that remains to be seen where Abhishek's Saint Helena will be.
Related Stories:
Abhishek Bachchan Sets New Pathetic Record
Drona Bomb Explodes in Eros' Face
Drona – Pathetic Piece of Shit; Abhishek Bachchan Stinks