Former Goldman Sachs banker and U.S. Assistant Secretary of the Treasury for International Economics and Development Neel Kashkari, 35, will oversee the $700 billion tax-payer bailout of financial institutions triggered by greedy Wall Street swines.
On October 6, 2008, the U.S. Treasury Department named Neel Kashkari Interim Assistant Secretary of the Treasury for Financial Stability.
In this new role, Kashkari, whose parents hail from Kashmir in India, will oversee the Office of Financial Stability including the Troubled Asset Relief Program.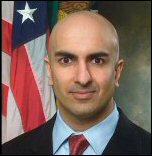 Neel Kashkari
Big Question
More than concerns about his financial skills, the big question now is whether Kashkari has the political savvy required to navigate the treacherous shoals of Congress in implementing a program that most Americans are outraged about but have been forced to accept.
Background
According to the New York Times, Kashkari holds undergraduate and master's degrees from the University of Illinois at Urbana-Champaign and worked for several years as a satellite engineer for TRW before earning an MBA from the Wharton School in Philadelphia.
Here's some more blah blah blah on Kashkari from the U.S. Treasury Dept's Web site:
Mr. Kashkari joined the Treasury Department in July 2006 as Senior Advisor to U.S. Treasury Secretary Henry M. Paulson, Jr. In that role, he was responsible for developing the President's Twenty in Ten energy security plan, enhancing Treasury's engagement with India, particularly in the area of infrastructure development, and developing and executing the Department's response to the housing crisis, including the formation of the HOPE NOW Alliance, the development of the subprime fast-track loan modification plan, and Treasury's initiative to kick-start a covered bond market in the United States.