Abhishek Bachchan never tires of setting new pathetic records, whether in his hopeless attempts at acting or in the plunging box office collections of his movies.
Abhishek's mega-disaster Drona has fallen nearly 26% in its gross collections in its second weekend at the U.S. box office.
In the second weekend, Drona grossed $147,625 compared to $168,040 for Sarkar Raj (another Abhishek Bachchan nightmare) in its second weekend. That's a new pathetic record from Abhishek Bachchan.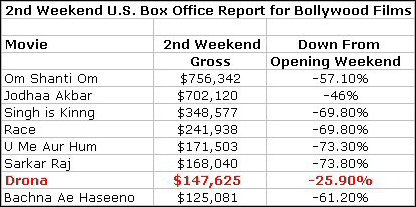 Other Bollywood stars like Shahrukh Khan, Akshay Kumar and Hrithik Roshan reach new highs while Abhishek Bachchan tastes new lows with each movie.
Well, what do you expect?
Drona was a hopeless piece of junk and is deservedly the mother of Bollywood disasters.