Despite its release during the hot Diwali weekend, Heroes has failed to set the box office on fire in the U.S.
Not surprising considering Heroes is nothing more than a boring Indian armed forces recruitment ad.
For the October 24-26, 2008 opening weekend, this crappy movie had a gross of $326,425 in the U.S.
The lousy movie had an average gross of $5,440.
Heroes opened at No-25 at the U.S. box office, an embarrassment for a Bollywood movie featuring Salman Khan, Preity Zinta and Sunny Deol.
Take a look (below table) at where Heroes comes in vis-a-vis a few other Bollywood movies: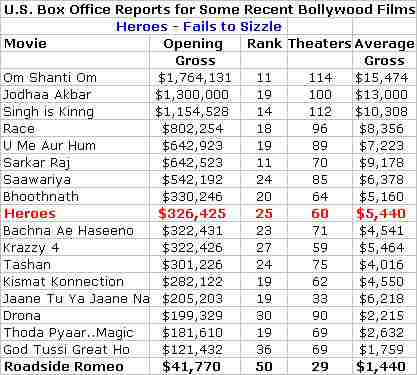 Here's an excerpt from SearchIndia.com's review of Heroes:
What a bloody waste of time.

What a dreadful waste of money ($9 for our ticket not to mention the crores down the drain on the film).

What an awful waste of film-stock.

Directed by Samir Karnick, Heroes' first claim to infamy is the coming together of four of the most incompetent actors in Bollywood in a single movie – Salman Khan, Sohail Khan, Sunny Deol and Bobby Deol.

Second, Heroes plays a cruel trick on viewers by fobbing off a bad recruitment ad for the Indian armed forces as a Hindi movie.