Which Idiot Said Priyanka's Fashion is a Hit? Bullshit
We survived Fashion.
Never before has there been such an ugly movie about beautiful people as Madhur Bhandarkar's crap show Fashion.
The simple fact of the matter is Madhur Bhandarkar does not know how to tell a compelling story. And that's all too apparent in his latest Bollywood movie, the boring Fashion.
An interminably long and mediocre movie, Fashion is a dismal ensemble of bad acting, a lousy screenplay, poor editing and less than impressive costumes and makeup.
An awfully bad actress, Priyanka Chopra, the heroine of Fashion, is the kiss of death for any movie.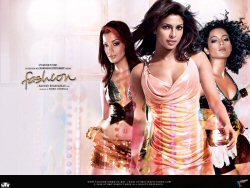 In virtually every frame that Priyanka Chopra appears in Fashion, this repulsive Bollywood horror show rolls across like a Katrina and does inestimable damage to our artistic sensibilities.
Whether it's telling her parents that she's decided to go to Mumbai to pursue a career in modelling, her tantrums or her confrontations with Manav (Arjan Bajwa), Abhijit Sarin (Arbaaz Khan), Anisha (Kitu Gidwani), Shonali (Kangana Ranaut) in the rest room or dress designer Vinay Khosla, Priyanka Chopra shows no life in her acting and utterly fails to bring any drama to the screen.
Like her male counterpart Abhishek Bachchan, Priyanka Chopra puts in hopelessly inept performances in movie after movie. Love Story 2050, Drona, God Tussi Great Ho and now Fashion, Priyanka Chopra is remorseless in treating the paying audience with utter contempt.
While Priyanka Chopra is a complete disaster in Fashion, Kitu Gidwani as the modeling agency owner Anisha, Arjan Bajwa as the struggling male model Manav, Mughda Godse as the model Janet, Sameer Soni as a gay dress designer Rahul Varma and even Kangana Ranaut as the rival model Shonali throw in decent performances.
Alas, the other actors are peripheral to the movie, which centers around a young girl from Chandigarh, Meghna Mathur (Priyanka Chopra), coming to Mumbai in pursuit of a career in modeling.
Arbaaz Khan is as usual horrible and the less said about this clown the better for your sanity, dear reader.
In Fashion, the screenplay never brings the fashion industry or the people in it to life.
The models walk down the ramp, the effeminate dress designers loudly and crudely advertise their gayness and the top models throw tantrums, snort cocaine and shriek when they are dumped in favor of newer girls but that's not enough to hold audience interest in the absence of a coherent and gripping narrative. Remember, Fashion is an interminably long 2hr and 42 minute movie.
And what about the obscene length of the movie? The movie could have been cut by about 40 minutes with tight editing. Although Devendra Murdeshwar is listed as editor, we seriously doubt this duffer did any work.
Despite all the pre-release hype, Fashion is an affront to viewers and by no means a worth seeing movie.
Unless you have oodles of cash to burn or time to waste, show Fashion the middle finger.