Next in line to get screwed big time in the U.S. is the healthcare system, by which we mean the American doctors and hospitals.
The big question is will India stand to gain from the collapse of the American healthcare system or will other nations like Singapore, Mexico, Israel, Phillipines or Poland reap the benefits.
As even the dodos know by now, manufacturing, IT and other well paying service sector jobs have all but disappeared in America – shipped off to low wage coolie nations like China, India or Mexico.
And the American healthcare system, which has engaged in a whole bunch of nefarious misdeeds that makes the Enrons and Worldcoms look like saints, could be the next to feel the impact.
Thanks to an unholy nexus between greedy insurance companies, callous hospitals, avaricious doctors and mercenary pharmaceutical companies, the healthcare system in America is now on the precipice of collapse. 
We've received medical care in India, Europe and the U.S. Frankly, medical care in the U.S.  – whether at hospitals or primary care physicians – is very mediocre, worse than what you can get at a private clinic/hospital in India.
The prices for medical procedures in the U.S. are beyond obscene.
As a result, radiology services have already started moving to India and other countries, and American patients and employers are increasingly abandoning U.S. hospitals and doctors for cheaper and better healthcare in countries like Mexico, India and Singapore.
Take a look (below) at the L.A.Times compiled chart of comparative pricing for medical procedures (click on image for better quality graphic):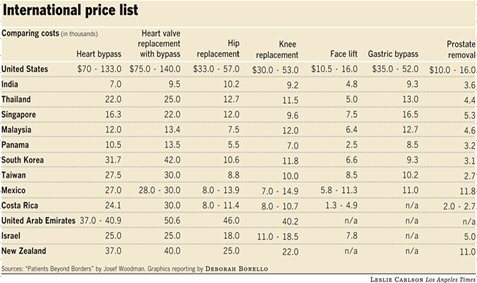 Source: Los Angeles Times (November 1, 2008)
If you are without insurance in America, it's the same as the poor in India – you will die. Because you ain't going to receive any treatment despite all the nonsensical pharmaceutical association ads featuring the bus.
With 75 million people in the U.S. either uninsured or underinsured, you can imagine the looming disaster here.
Here's an excerpt from the L.A.Times story:
Last year, 750,000 Americans traveled abroad for care, according to estimates by the Deloitte Center for Health Solutions, a Washington-based research center that's part of the consulting firm Deloitte & Touche. Other analysts say the numbers are lower. But hardly anyone disputes that medical care, once a highly local business, is going global like never before. By 2010, Deloitte projects, 6 million consumers a year will venture outside the United States for medical treatment.

The idea of jetting off to India for heart surgery might strike some as a radical way to save money. But proponents say it's a logical outgrowth of the globalization that's reshaping the industry. 
Although Indian hospitals are trying to woo Americans/NRIs, medical tourism in India has yet to gain real traction.
Just as the software industry in India worked miracles without government help, if the Indian medical ecosystem can get their act together and set up a Nasscom-like organization, there's an El Dorado out there in the army of sick American baby-boomers eager to hand over their dollars to Indian doctors and hospitals.
Is India up to the challenge?
Related Stories:
Do Doctors in India Still Make House Calls?