Unless the American people are complete idiots, we're going to see a landslide victory for Barack Obama on November 4.
No, we do not believe Americans are all blithering idiots (because then we'd be labelling ouselves as dolts).
Having watched the debates, the campaigns, the talking heads on television and seen the opinion polls, we are now predicting that Obama will win more than 350 electoral college votes (270 is enough to win the White House) out of the total 538 electoral votes.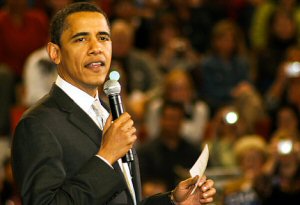 John McCain's message, and by default the Republican Party's, of more tax breaks for the fat-cats and relentless efforts to smear Obama as a socialist out to redistribute wealth are not resonating well with voters – not even in the 'Red' states like Virginia, which last voted for a Democratic candidate in 1964 (when the parents of most readers of this blog were not even married) and will most likely do so again on Tuesday.
McCain is also unlikely to win Ohio, Colorado, New Mexico, Nevada and Florida, all states that Bush carried in 2004.
Obama's overarching promise of Change and his positions on key issues like taxes (rolling back the Bush tax cuts for the fat cats), outsourcing (he has promised to stop giving tax breaks to corporations that ship jobs overseas and start giving them to companies that create good jobs in America), the Iraq war (opposed to it and promises to end the war), Wall Street (favors more regulation), foreign policy (promises a retreat from the arrogant Bush-Cheney my way or the highway attitude) and health care (promises to provide affordable healthcare to all Americans) are striking a chord with Americans of all colors – Black, White and Brown. 
We do not expect Obama's victory will usher in miracles because things have gotten so bad here due to years of Republican misadministration, the idiots in the Democratic party and the corrupting influence of corporate lobbyists on both parties.
But an Obama win will at least restore some legitimacy to the U.S. administration, which has turned into a plutocracy in all but name.