Hello, did we hear someone say that Fashion – Priyanka Chopra's Ugly Movie About Beautiful People – has had a great box office response.
Bullshit.
Just look at Fashion's box office numbers in the U.S. – the movie is a frigging disaster.
In its opening weekend (October 31-November 2, 2008), Fashion grossed a piffling $105,812.
This pathetic piece of shit came in at No-36 and had an average of $2,645.
Please see below table for how Fashion has fared compared to some other Bollywood/Indian movies: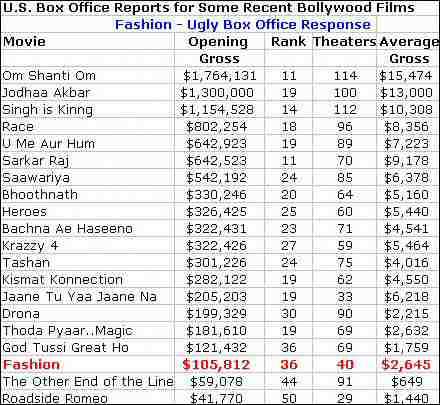 Jaane Tuu Ya Jaane Na released in fewer theaters but made nearly twice as much as Fashion in the opening weekend in the U.S.
Some folks on this blog have hailed Fashion director Madhur Bhandarkar as a talented fella.
But we think the bozo needs to enroll in the Pune Film Institute pronto and learn the basics of the craft.
In its review of Fashion, SearchIndia.com said:
Never before has there been such an ugly movie about beautiful people as Madhur Bhandarkar's crap show Fashion.

The simple fact of the matter is Madhur Bhandarkar does not know how to tell a compelling story. And that's all too apparent in his latest Bollywood movie, the boring Fashion.

An interminably long and mediocre movie, Fashion is a dismal ensemble of bad acting, a lousy screenplay, poor editing and less than impressive costumes and makeup.

An awfully bad actress, Priyanka Chopra, the heroine of Fashion, is the kiss of death for any movie.

In virtually every frame that Priyanka Chopra appears in Fashion, this repulsive Bollywood horror show rolls across like a Katrina and does inestimable damage to our artistic sensibilities.