A few minutes back (around 8:30 PM EST), we were watching Campbell Brown of CNN blah-blah-blahing about tomorrow's U.S. Presidential elections.
Campbell mentioned that one of the good luck charms that Democratic Presidential candidate Barack Obama always carries with him is a small statue of the Hindu Monkey God Hanuman.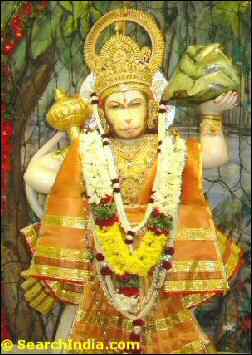 I am Hanuman &
I Endorse Barack Obama
We'll know tomorrow if good ol' Hanuman – the one with those swollen cheeks, the long tail and mace – has done his bit to help Obama win the White House (if Obama wins with a big margin, we'll credit the victory to Hanuman).
If Obama makes it to the White House, this will be Hanuman's second major achievement – after helping Lord Ram rescue Sita from the clutches of the evil demon Ravan.
Obama – Another feather in Hanuman's cap!
I am Hanuman and I Endorse Barack Obama.
(By the way, I also approve this message)