We are so thrilled.
Barack Obama has decisively won the U.S. Presidential elections.
********************* 
Based on early results, SearchIndia.com confidently declares that Democratic candidate Barack Obama has won the historic U.S. presidential elections bringing the long Republican nightmare and misadministration to an end.
At 10:29 PM EST, Obama already had 207 votes in the bag compared to 138 for his Republican opponent John McCain.
But remember one important point – Democratic states of California, Oregon and Washington have not announced yet. Unless hell freezes over, these three states are NOT going to vote for a Republican candidate. So that is 73 additional votes for Obama taking him past the finishing line of 270 votes required to win the U.S. Presidential elections.
Besides winning in the big Democratic strongholds of Pennsylvania, New York, New Jersey, Delaware, Illinois and Massachusetts, Obama also pulled off impressive victories in the Republican states of Ohio, New Mexico and Iowa.
Historic Win
By winning the hard-fought election, Obama has made history as the first African American candidate (his father was from Kenya and his mother a White American) to win the U.S. Presidency.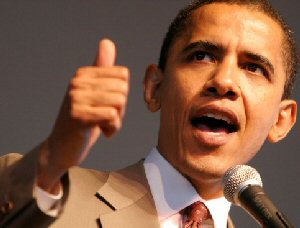 Barack Obama – Historic Victory
Obama's is an inspiring story – his parents separated soon after their marriage and his father went back to Kenya. There was very little contact between Obama and his father afterwards.
Obama was raised by his mother and White grandparents in Hawaii (Obama's grandmother Madelyn Payne Dunham died on Sunday).
Indian-Americans and Obama
Indian-Americans, who in our opinion are mostly racist, initially supported Hillary Clinton in the primaries.
Indian-American support for Hillary during the primaries was so overwhelming that an irritated Obama campaign had this to say in a memo in 2007:
The Clintons have reaped significant financial rewards from their relationship with the Indian community, both in their personal finances and Hillary's campaign fundraising. Hillary Clinton, who is the co-chair of the Senate India Caucus, has drawn criticism from anti-offshoring groups for her vocal support of Indian business and unwillingness to protect American jobs. Bill Clinton has invested tens of thousands of dollars in an Indian bill payment company, while Hillary Clinton has taken tens of thousands from companies that outsource jobs to India. Workers who have been laid off in upstate New York might not think that her recent joke that she could be elected to the Senate seat in Punjab is that funny.
But the polarising duo of Hillary and her serial philanderer husband Bill Clinton were no match for Obama's disclipined campaign and message of change and hope.
And Hillary and her Indian-American cronies had to kiss the dust.
What does Obama's Victory Mean for Outsourcing? 
Obama is not a great fan of outsourcing.
Obama's made it clear where he stands on the contentious issue of outsourcing that has stolen several thousand well paying jobs from Americans and handed them over to the cheaper Indian and Chinese coolies.
In his acceptance speech after he won the Democratic primaries, this is what Obama had to say on outsourcing:
Unlike John McCain, I will stop giving tax breaks to corporations that ship jobs overseas, and I will start giving them to companies that create good jobs right here in America.
We strongly oppose outsourcing of U.S. jobs to India and other countries. How would Indians feel if their jobs were outsourced to Bangladesh and Sri Lanka?