We are just back from the polling booth at the local middle school having cast our vote for Democratic Presidential candidate Barack Obama.
We hope you'll consider voting for Obama because he's the better candidate in this crucial election.
John McCain and his fellow Republicans represent more of the same nonsense we've endured for the last eight years.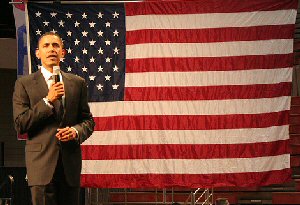 The Republican Party is the party of Plutocrats (very wealthy people) and does not represent the interests of ordinary people.
George W.Bush and his cronies have demonstrated the immense destruction that Republicans can do to this nation. America cannot afford any more damage.
A vote for Barack Obama is perhaps our last chance to fix many of the serious problems this nation now faces.
Please consider voting for Barack Obama and the Democratic ticket in your city or state.
Jai America.