So stupid you thought formaldehyde was used only to preserve dead frogs or embalm grandma's dead body before the burial.
Think again.
A lawsuit has been filed against sexy lingerie company Victoria's Secret in the U.S. alleging that the firm uses formaldehyde in its bras.
Yes, formaldehyde in the bras. No kidding.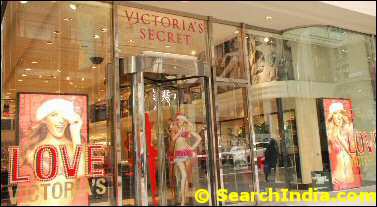 Formaldehyde in Your Victoria's Secret Bras?
Apparently, the alleged use of formaldehyde in the bras is causing rashes, hives and even permanent scarring.
You ask where? Where else, duffer.
Oh, by the way formaldehyde is known to cause cancer too.
Ohio resident Roberta Ritter, supposedly a longtime Victoria's Secret shopper and the person behind the lawsuit, told ABC News:
I had the welts … very red, hot to the touch, extremely inflamed, blistery. It itched profusely.

I couldn't sleep, waking up itching.

I was just utterly sick.

I was floored. I thought, 'I have to come out with this. The can of worms has to be opened because it's not just me, it's other people as well.
Oh, how sad.
Of all the place, rashes on the tits. Why couldn't it be on the heart or lungs?
JFK was right. Life is unfair.
In case you are one of those obscene, curious types, the allegedly offending bras are Angels Secret Embrace and Very Sexy Extreme Me Push-Up bras.
If you live in the U.S., it's hard for you to have missed Victoria's Secret lingerie in malls, ads or catalogs even if you don't happen to wear them. They are so priapically sexxxy. 
No Cialis or Viagra needed with those Victoria's Secret things on.
Honey, next time your boyfriend (or maybe a girlfriend in your case) complains that your cupcakes smell funny, don't get insulted.
Maybe, those mammas have been pickling away in formaldehyde.
This is the statement that Victoria's Secret has put out to the media:
We are sorry that a small number of people have had an issue and we want to help them determine the cause. Customer safety and satisfaction are always our primary concerns and we take seriously any issues our customers may have with our products.
We Can Help
Hey you formaldehydrated victims, if there's anything we can do to bring relief to your jugs, please, please don't hesitate to ask us.
Remember Adam Sandler massaging the beautiful Jessica Beil's yummelicious boobies in I Now Pronounce You Chuck and Larry?
Well, we have nice, big palms too and we know our way around them tatas.