If you are one of those itching for a cheap, small HD camcorder, Pure Digital Technologies (the makers of the wildly popular Flip Video camera), has put out a HD version of their device – Flip MinoHD.
Priced at $230, Flip MinoHD is touted as the world's smallest HD camcorder.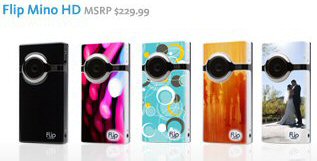 The New Flip MinoHD Camcorder
Flip MinoHD comes with resolution of HD 720p and 4 GB of internal memory (to record up to 60 minutes of HD video).
The new FlipShare software that now comes with all Flip camcorders lets users organize, edit and share their videos in either standard or high definition (for Flip MinoHD consumers).
The Wall Street Journal reviewers were pleased with the Flip MinoHD's picture quality and sound but not too pleased with the small 1.5-inch screen and the inability of the FlipShare software to let users share true HD footage (has to be compressed to 480×270 pixel) with friends/family.
Flip MinoHD is available at Amazon.com, BestBuy.com and WalMart.com.