The dissenters may quibble about a chase falling short, a car still being shiny after a dusty race or some other pedestrian goof.
Or even, good lord, that Bond is human with human feelings after all, just like us ordinary mortals.
But we've always believed that a James Bond movie is more than the sum of its individual parts, so much more.
Quantum of Solace (directed by Marc Forster) hews to the standard Bond fare of fast car chases, sexy girls, M, thrilling action scenes, fireballs, betrayals, an evilly evil villain and a fiendish plot.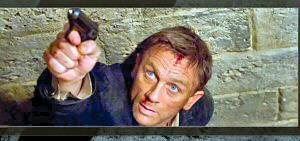 But the latest version of the Bond franchise – the 22nd in a series that started 46 years back – also marks some deviation.
The new Bond is not afraid of showing that he's a man of feeling too. Not just the cool, unflappable, unruffled-under-any-circumstance MI6 agent of Her Majesty's Secret Service.
Bond is capable of that dark emotion revenge, the leitmotif of this movie.
Revenge for the death of his girl Vesper, who dies toward the end of Casino Royale.
Also, the hot, cool gadgets are missing unless you count a cell phone that can transmit pictures as one.
The new movie starts off where the last one Casino Royale ended – A fast car chase with Bond at the wheels of an Aston Martin, the captured villain in the trunk followed by the bad guys in an Alfa Romeo on the obligatory crowded, winding hilly road.
No sooner does the chase end than we encounter another Bond staple – betrayal – as M's bodyguard Mitchell helps the villain Mr.White, who Bond has brought there for interrogation, to escape.
Yes, Quantum does have people everywhere.
Daniel Craig is an excellent actor.
Perhaps the best among several who have donned Bond's classic suits and possessed that rare license to kill.
Whether in the daring action scenes as he leaps across roof-tops in pursuit of the betrayer Mitchell or fighting high-up in dark, tall buildings or showing that faintly noticeable flicker of emotion about Vesper, Daniel Craig is a joy to behold.
You don't expect great acting in a Bond movie, a Jason Bourne flick or a Superman sequel but Daniel Craig delivers.
French actor Mathieu Amalric plays Dominic Greene, a vicious character in normal clothing and a leading member of the shadowy Quantum organization.
Amalric is an impressive actor although he doesn't have that much scope here given the confining framework of a Bond film. We plan to watch his other movies soon.
No, oil is not the precious commodity that Amalric and his cohorts are trying to corner. No, it's not gold either. But a more mundane commodity that could be the harbinger of future wars among nations.
Ukrainian actress Olga Kurylenko is effective as Camille Montes, a Russian-Bolivian agent who is on her own revenge trip over a past tragedy.
There are chinks, of course. And the biggest is the decision to make Quantum of Solace a sequel.
A sequel always makes it difficult for those who were not part of the original journey to really comprehend the motivations of the dramatis personae in the later versions.
Besides the studios, Quantum of Solace was filmed in Italy, Spain, Mexico, Panama City, Chile and Austria.
Its shortcomings notwithstanding, Quantum of Solace is decent fare – a lavish buffet set on a well decorated table with most of the usual Bond ingredients in abundant supply.