For some time now, we have believed that desi butcher Vikram Pandit is the wrong man for the top job at Citigroup.
Other than butchering tens of thousands of jobs at Citigroup and presiding over the departure of top executives like Sallie Krawcheck, Pandit has done little to boost morale or significantly improve the business prospects of the company.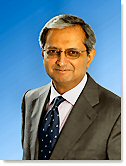 Vikram Pandit
Look at Citigroup shares: They closed at $33.23 on the day of Vikram Pandit's appointment as CEO on December 11, 2007.
Fast forward about 11 months later: On November 14, Citigroup shares closed at $9.52 (Source: Yahoo Finance).
Since Pandit's appointment, Citigroup shares have fallen over 71% and the hedge fund that brought him to Citi has turned out a disaster.
That's terrible news.
Apologists will of course try to explain away the shitty mess at Citigroup to the meltdown on Wall Street.
But let's not forget that Pandit is a veteran of the same Wall Street that many people blame for America's present sorry state.
Meanwhile, the Wall Street Journal is reporting that Pandit has called a town hall meeting Monday, November 17 to allay employee concerns over the share-price decline and possible layoffs.
Separately, Reuters has a story out that Citigroup will slash its workforce by 10%, meaning 35,000 jobs will go poof. This would be on top of the 23,000 jobs that have already been cut this year.
Way to go, Vikram.
Now, you know why we call you the desi butcher.
Even as you hog like a greedy pig at the trough, you are slaughtering tens of thousands of lambs oops Citigroup employees.