Egyptian coolies have thrown down the gauntlet to our desi coolies on handling the White Man's IT chores and back-office operations.
Egypt, a country ruled with an iron fist by U.S. ally Hosni Mubarak, says it's leading the charge to make Africa an attractive market for outsourcing. (Although American media and movies routinely caricature Egypt as a torture destination, we like Mubarak for the tough way in which he has countered the Islamic fundamentalists in his country.)
Since outsourcing (particularly BPO) is a labor intensive activity, Egypt's recent focus on tapping this sector is understandable given the need to hold the lid on the seething cauldron of educated unemployed youth, who would otherwise be ready fodder for fundamentalist and violent outfits like the Muslim Brotherhood.
* Like India, Egypt is a poor country (GDP per capita of $1,739 source: Wiki) with a huge population (75.5 million). And just like Shakespeare's Yond Cassius in Julius Caesar (or our own desis), they all have a lean and hungry look.
* Like India, Egypt has a large annual graduating pool of 300,000 with a significant engineering, science and commerce base.
* Like India, Egypt is said to have a fairly decent English speaking talent pool (some 20,000 fluent English speakers are supposed to graduate anually).
* Like India (or Phillipines), Egypt is a low cost country with low salaries and low international telecommunications rates.
* Like India, Egypt has a vast chunk of its population in the young age-group (41% of its 75 million are between 15 and 39), who are eschewing the jobs of their parents and exploring new opportunities.
Outsourcing Advantages
Egypt is touting advantages like a multilingual workforce (fluent in English, French, German, Spanish, Portuguese, Dutch and Arabic); lower labor costs than in surrounding low-cost regions; time zone proximity with the West; relative familiarity with Western culture;  and lower staff attrition rates as factors that make it a more compelling destination over traditional outsourcing locations like India and China.
Egypt's IT sector is projected to grow from $889 million in 2006 to $1.3 billion in 2011, according to the country's Information Technology Industry Development Agency (ITIDA), which is striving to grow the country's information and communications technology industry with a thrust  on business process outsourcing (BPO).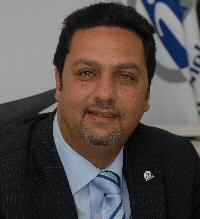 Hazem Abdelazim
CEO, ITIDA
To lure international companies to set up call/service center and BPO operations in the country, the Egyptian government provides tax breaks, financial incentives and assists in training staff to handle multinational clients and maintain global standardized work ethics.
According to Hazem Abdelazim, CEO of ITIDA:
Egypt has built an entire ecosystem to support the country's Information and Communication Technology industry. The availability of a qualified multilingual workforce, excellent infrastructure and political stability has all helped attract companies to invest in Egypt.
ITIDA tells us that besides Microsoft, EDS and IBM, Indian IT majors like Satyam and Wipro have set up software development centers in Egypt.
That's not all.
Alcatel, Microsoft, Oracle, Orange and Vodafone have established technical support centers in Egypt while AC Neilsen, HSBC and Microsoft have either already put up or plan to start call centers and BPO processing nodes in the country.
Citing a new report (the Global Services-Tholons Study), Abdelazim boasts that Egypt has broken into the top 10 of the world's emerging outsourcing cities for the first time:
This is a great step forward for Egypt. Over the years we have been working hard to strengthen our Information and Communication Technology sector and promote Egypt as a leader in the global outsourcing industry. This latest study highlights the potential Egypt has and the developments we have made. This is also reflected in our ongoing expansion plans and the increased investment we are seeing from major international organizations.
Role Model
Egypt intends to use the emerging information and communication technology sector as a role model of deregulation and privatization and as a catalyst for reform in other sectors.
As the flagship hub of the information and communication technology sector, Egypt has built a Smart Village in Cairo extending over 600 acres.
ITIDA officials say that the Smart Village is Egypt's first fully operational Technology and Business Park, and the first of its size in the region. The Technology Park accommodates multinational and local telecommunications and IT companies, financial institutions and banks and government agencies.
Apparently, there are already 13,000 professionals running operations (of 100 companies) at the Smart Village, a number that's projected to exceed 40,000 by the end of 2014.
Can Egypt Expand its Outsourcing Operations?
Egypt may claim that it's fast moving beyond traditional stereotypes and becoming more than just the land of the Pharaohs.
Egypt may have also seen some early success in its outsourcing operation but can the country scale its operations like India?
That's a hard question to answer because it depends on so many factors:
* Can Egypt maintain political stability (so far it has)? But Mubarak is already 80 and anxieties remain about what will happen after he leaves the picture (by the way, it's not safe to speculate about Mubarak's health in Egypt).
* Indian companies have a huge lead in outsourcing with several locations (Bangalore, Hyderabad, Noida, Pune, Chennai and Mumbai) and tens of thousands of employees who have proven themselves with large U.S. and European corporations. So it's going to be very hard for Egyptian companies to dislodge Indian companies. The trick is to initially partner with Indian firms and woo large desi companies like TCS, Infosys, HCL, Patni and Tech Mahindra to set up shop in Egypt.
* As the appeal of nearshoring or nearsourcing increases, will Mexico or parts of Eastern Canada gain an edge over Egypt?
* Will the incoming Obama administration clamp down on outsourcing-friendly policies?
* Will American and European corporations companies invest significantly in a Muslim nation given the current heightened suspicion of Islam in the West after the 9/11 attacks (by the way, Mohamed Atta, leader of the 9/11 attackers was from Egypt).
The answers to the above questions will determine whether Egypt can ride the outsourcing wave in a big way like India.
But if Egypt can expand its nascent outsourcing operations, they could eventually pose a threat to India by providing American companies with an alternative and force down costs.
More Pain for Americans
Ultimately whether Egypt gains or India falters in the outsourcing arena, one outcome is certain – the American Middle Class, which is already getting eviscerated, will face more pain.
And it won't be too long before the American Middle Class reaches the standard of living in Mumbai's slums or Cairo's hovels.
And that is the real tragedy of this Outsourcing Explosion -As the standard of living improves for the Third World Coolies, First World citizens are being dragged down into the ditch.