Shares of the Vikram Pandit-headed Citigroup fell a record 23% to $6.40 on Wednesday, a 13-year low.
We don't see how Vikram Pandit, a greedy desi butcher, can survive for long in his post with the stock in free fall and the loss of investor confidence.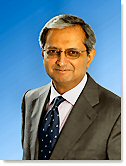 Pandit: Clueless?
Since Vikram Pandit took over as CEO of Citigroup in December last year, the bank's shares have fallen nearly 80%.
Here's what the Wall Street Journal (subscription required) had to say on the fall in Citigroup's shares and Vikram Pandit:
Investors were rattled by the New York company's announcement that it will buy the last $17.4 billion in assets held by its structured investment vehicles, which were among the first casualties when the credit crunch hit last year. Citigroup will take a $1.1 billion write-down to reflect the assets' eroded values.

Also fueling the decline was a steeper fourth-quarter loss projection by David Trone, an analyst at Fox-Pitt, Kelton. "The specter of Citi's problem asset levels…could continue to hinder investor confidence in the story," Mr. Trone wrote to clients.

For many investors, the drumbeat of bad news is eroding their confidence in Mr. Pandit's ability to turn around the global financial giant.
Just in case you didn't know, Citigroup has received $25 billion from the U.S. Government's TARP (Troubled Asset Relief Program) initiative to save Wall Street.
Vikram Pandit, who's clearly in over his head at the financial supermarket, recently announced plans to fire 50,000 employees in the latest round of bloodletting at the troubled firm.
The job cuts are set to happen in the near term and cut Citigroup's global headcount to about 300,000.