Police in India's financial capital Mumbai are battling terrorists who struck in multiple places on Wednesday night killing at least 195 people (including 13 foreigners and 14 policemen) and injuring 327.
A previously unknown Islamic organization called Deccan Mujahideen claimed responsibility for the attacks at 11 separate locations.
The Indian Army has been pressed into service to assist the Mumbai Police in battling the terrorists and the local authorities are asking residents to stay indoor and not venture out.
Eleven Attacks
The situation is still fluid but Indian media is reporting that there were 11 different attacks that began between 9PM-9:15PM local time on Wednesday.
The gunmen fired in the Chhatrapati Shivaji Terminal train station (VT Station) as well as in the vicinity of luxury hotels Taj and Oberoi and two hospitals GT and Cama.
Indian TV channels showed pictures of the Taj in flames as the terrorists battled the security forces holed up there as well as at the Oberoi.
There have also been reports of firing at the Ramada Hotel.
Indian police say the attackers used AK-47 guns and hand grenades.
Targeting Westerners
There are also reports of two hostage situations involving Western nationals.
Apparently, the terrorists were said to be looking specifically for British and U.S. nationals.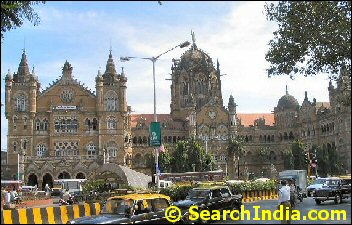 File Photo of Chhatrapati Shivaji Terminal
a.k.a. VT Station
A gas station in Colaba is also said to have been blown up by the gunmen.
Media reports say that the Leopold Cafe (mentioned in the bestselling book Shantaram by Gregory David Roberts), located in Colaba and a favorite destination of foreigners, was the first to be attacked.
Mumbai Under Siege
Mumbai city is under lock-down with most roads closed.
Cellphone and local telephone services are said to have been hit and many parts of the city wore a completely deserted look.
Policemen Killed
Maharashta Police's Anti-Terrorism Squad chief Hemant Karkare of the elite Indian Police Service was killed in a shoot-out with the terrorists.
A total of 14 policemen lost their lives in the battle in which several gunmen were killed.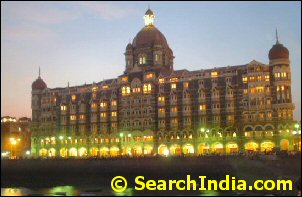 File Photo: Taj Hotel – Under Attack
Previous Attacks
Mumbai has previously been the site of two other major attacks – On July 11, 2006 terrorists placed multiple bombs on several Mumbai trains that killed 209 and injured over 700. More than a decade earlier, on March 12, 1993 Mumbai was rocked by a series of blasts that left over 250 dead and more than 700 hurt.
Besides Mumbai, other Indian cities like Delhi, Jaipur and Hyderabad have also borne the brunt of terrorist violence over the last few years.
Meanwhile in the U.S., the FBI is warning against possible attacks on the New York Subway, Long Island Rail Road and Amtrak.
Related Stories:
Allāhu Akbar – Ajmal Kasab Hanged
Mumbai Terrorist Nightmare Ends; 195 Dead
Bhaiya, Aaramse Maar Meri Gaand
Heads Must Roll; Fire IB Chief P.C.Haldar
Who the Heck is Deccan Mujahideen?